Back to news list
Professor Tim Lang says Olympic fish commitment 'sets new world standards'
26/02/2012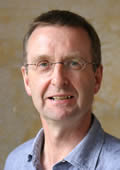 Leading food policy academic Professor Tim Lang has praised the London 2012 Food Vision for its ambition to use the power of the Games to inspire healthy and sustainable food in the catering sector, especially sustainable fish. The praise came in a feature in The Independent on Sunday newspaper examining the food provision for the London 2012 Olympic and Paralympic Games.
The article, by journalist Will Hamilton, stated, "The Food Vision for the London 2012 Games was laid out by the organisers back in 2009. It was notable for one thing: its ambition to sustainability. At the time there was a certain amount of sneering along the who–do-you-think-you-are-kidding lines. But it has proved a major triumph, as Tim Lang, professor of food policy at City University points out. "I was opposed to the Olympics... But, that said, the achievements of the London Food Board and Rosie Boycott [the board's chair] in getting the Games to be as sustainable as possible is brilliant."
Professor Lang singled out London 2012's commitment to sustainable seafood, and the independent campaign run by Sustain to promote these to the wider catering sector, as inspirational. He said, "The sustainable fish initiative – which ensures that all fish served is demonstrably sustainable – is remarkable and sets new world standards. And the effort to get communities around the Olympic village to attempt the hard slog of growing their own food is a fantastic example of collective action. They have pushed the boundaries."
The groups and activities referenced by Professor Tim Lang are as follows:
The original Independent on Sunday article was published on 26th February, 2012. Read it here.