Food Power: Maintaining personal resilience and wellbeing during Covid-19
08/12/2020 14:00 15:00
To deliver for those in need we must also look after ourselves. Join this Food Power webinar to discuss how to do just that in the age of Covid-19.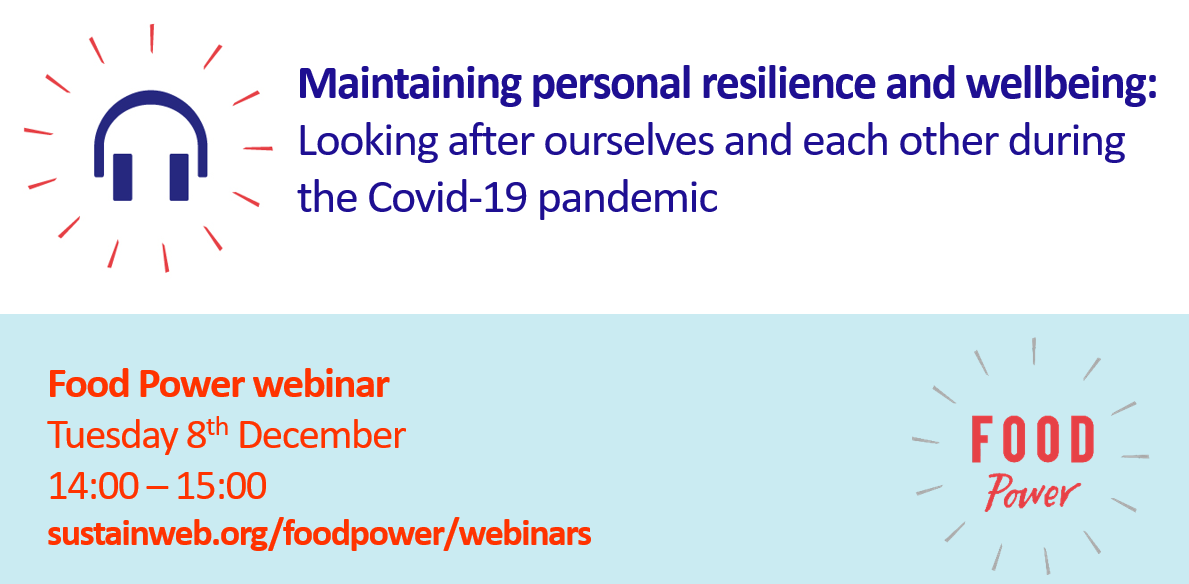 "If I am not good to myself, how can I expect anyone else to be good to me?"

Maya Angelou
This year, food poverty alliances, food partnerships, community organisations and many others have delivered more meals, parcels and community food retail projects than ever before after demand skyrocketed in the wake of Covid-19. Yet to continue supporting those in need we must also make sure we're looking after ourselves. Amid a pandemic, with winter upon us and restrictions likely to continue for some time, how can we protect ourselves from burnout though? Join us for a webinar on Tues 8 December to discuss exactly that. We'll be joined by Peter Lefort, an expert in resilience and wellbeing who will help us reflect on the year that has been and guide us through some tools and techniques to protect us from burnout. These tools can be used for personal protection but also embedded within organisations to build stronger, more resilient teams so please invite colleagues, senior managers and even trustees to join the discussion too. Register here. Please note: This webinar is inteded for food poverty alliances and partnerships only.
The meeting will be hosted on zoom. Please register to attend here.

---
08/12/2020
Food Power
SHARE
---
Food Power: Food Power is an exciting new programme working with local communities across the UK to strengthen their ability to reduce food poverty.