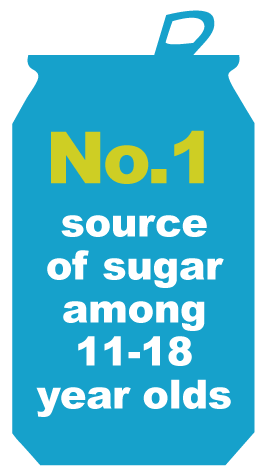 Protect children, save lives, save taxpayers' money.
Reducing the added sugar in soft drinks is a public health and taxpayer priority.
A sugary drinks tax is a tried, tested, fair and popular measure.
Tax the can
We support the Soft Drinks Industry Levy – a key plank of the Government's Childhood Obesity Plan.
Big food, drink and tobacco companies are fighting tooth and nail to block this sugary drinks tax from being introduced.
£1billion in new investment in primary school sports, breakfast clubs and secondary school after-school activities is potentially at risk if the Levy doesn't go ahead.
It's our children's health, NHS resources and taxpayers' money that is at stake.
Whose side are you on?
Join our email list
Hear all the latest news from the campaign.
1. Protect children
Children are consuming nearly 3x recommended maximum daily sugar intake.
Almost 1 in 3 children in England are overweight or obese.
Tooth decay is the no:1 reason for hospital admissions among young children.
2. Save lives
Almost 50,000 fewer cases of Type 2 diabetes.
Over 33,000 fewer cases of heart disease and stroke.
Nearly 9,000 fewer cases of bowel cancer.
3. Save taxpayers' money
£300million in direct treatment savings to the NHS, and significant savings to the NHS dental care budget too.
More is spent in England each year on the treatment of obesity and diabetes than on the police, fire and judicial system combined.
The indirect cost to the UK economy from obesity is between £27billion and £46billion.
A sugary drinks tax is a tried, tested and effective measure.
A sugary drinks tax is a targeted, fair and proportionate measure.
A sugary drinks tax is a popular measure
Who SUPPORTS a sugary drinks tax:
Doctors, nurses, dentists, dietitians, surgeons, and other health professionals.
Public Health England (the Government's own scientific advisors) and politicians from across the political spectrum.
The Treasury and the Government – it's now Government policy!
Parents' groups, teachers, trade unions, major children's and health charities.
Majority support amongst the wider public – 69% in favour, according to a poll in March 2016. Other opinion polls also consistently show a majority in favour.
More than 155,000 people supported a petition to introduce a sugary drinks tax.
Who is AGAINST a sugary drinks tax:
Big Soda – Coca Cola, PepsiCo, British Soft Drinks Association
Big Food – Nestle, Mondelez (Cadbury), Food and Drink Federation
Big Tobacco – British American Tobacco
Lobbyists for the tobacco industry – Institute of Economic Affairs, Forest
Lobbyists with non-transparent funding – TaxPayers Alliance, People Against Sugar Tax.
Obesity-deniers and anti-science ideologues and Twitter trolls.