Sweet and Sour (Food Facts No. 10)
Consumers in Europe pay inflated prices for their sugar whilst the excess production from Europe is dumped on the world market, depressing prices and causing economic hardship in many poor countries. Meanwhile European beet farmers are still paid large subsidies. This report also reveals that hidden sugars in our food are on the increase.
The impact of sugar production and consumption on people and the environment (2000)
There is growing concern about the environment and farming practices, and how our food production and distribution systems may be contributing to problems such as transport pollution, global warming, ill health and loss of wildlife. The Food Facts series of reports provides information about the negative and positive effects of food production and consumption on our environment and society.
Production
Sugar is unique as a world agricultural commodity, with two different crops competing for the same market: cane (produced mainly in poor tropical countries) and beet (produced mainly in wealthy temperate countries).
Nearly 83% of sugar comes from cane and the remainder from beet. The largest producers of cane sugar are Brazil and India who together account for 40% of the world's sugar supply. The EU produces around 14% of the world's sugar, with France as the biggest sugar beet producer in the world (2% of the sugar market).
Sugar cane and the environment: Sugar cane is usually grown as a monoculture. Production in many countries has moved to marginal areas removing natural rainforests, mangroves and other sensitive environments, Cane sugar has been responsible for reduced wildlife biodiversity, polluted rivers and seas, eroded fertile soils, careless use of pesticides and fertilisers, poor management of irrigation, air pollution from burning cane, and damage to coral reefs such as the Great Barrier Reef. The processing of sugar cane has also been shown to be very polluting, especially in poorer countries.
Today, sugar cane production is slowly becoming more sustainable. For example Integrated Crop Management techniques and green harvesting are more common in many countries. The environmental record of the cane sugar industry has been poor, but steps are being taken to rectify the problems.
Sugar cane and employment: Working in sugar plantations can be back-breaking work with very poor wages. Many countries who are not part of a bi- or multi- lateral sugar trade agreement suffer from low and fluctuating sugar prices on the world market. As a result cane production work is not always available.
Sugar beet and the environment: Sugar beet is always grown in a rotation with other crops. Pesticide use on sugar beet is very high. The sugar beet industry has encouraged a move from multi-germ seeds to single-germ seeds to remove the need for thinning sugar beet plants and therefore lower labour costs. It is therefore important for each plant to be protected to maximise yields which has led to increased use of pesticides and herbicides. In 1996, MAFF recorded that beet farmers used on average 10.5 herbicide active ingredients each year, over double the amount used for any other crop. This dependence on pesticides has contributed to the general decline of weeds, insects, mammals and birds in farmland areas in the UK. A report found that the majority of sugar beet fields had less than 4 weeds per square metre. Such low numbers of weeds would undoubtedly lead to reduced populations of farmland birds and mammals. The introduction of genetically modified (GM) herbicide resistant sugar beet may exacerbate the problem as the number of weeds may be even lower in a GM crop.
British Sugar in the UK has a 100% monopoly on the production and processing of sugar beet, benefiting from large subsidies paid from the European Union Sugar Regime. Sugar beet in the UK is one of the most profitable crops for a farmer to grow. Some of the profits are used for research and development, mainly at Broom's Barn. Nearly all the research at this establishment has looked at intensifying the production of sugar beet, including the development of GM sugar beet. To date little research has focused on more sustainable forms of production and there has been no research into organic production. British Sugar currently imports organic sugar cane and it is only this year (2000) that the company started trials growing organic sugar beet.
Research and development of GM sugar cane and beet could provide many financial advantages for both producers and processors. Unless legislation or consumer resistance stops the production of GM sugar it is probable that both GM sugar cane and beet will be grown in the next ten years.
Health
Humans (and other mammals) are born with a natural inclination to enjoy the sweet taste of sugars. This has been used by food and drink companies to help sell their products. Sugars contain no micronutrients and provide empty calories. Sugars have also been implicated in a number of diseases and health problems including:
Dental decay: bacteria in plaque (around teeth) rapidly metabolise sugars, creating localised areas of high acidity which erodes the tooth enamel. Therefore brushing teeth after a snack or a meal may come too late to prevent the worst of the damage. It is probably better to brush your teeth before eating sugary foods as this helps remove the plaque. Although fluoride helps to strengthen enamel, tooth decay still occurs. Of all the sugars, sucrose causes the most problems.
Obesity: Although there is little evidence to show that sugar leads directly to obesity, sugary processed foods and drinks in general do contribute. Sugary drinks in particular have been associated with weight gain.
Diabetes: Laboratory studies have failed to show a direct link between diabetes and normal sugar consumption. However diabetes is linked to obesity, which in turn is linked to diabetes, and very high levels of sugar consumption (>200 grams per day) are considered a possible risk factor for developing diabetes.
Heart and circulation diseases: Similar to obesity, indirect links are the main concern. Sugar is used to sweeten processed foods which may displace fruit and vegetables from the diet. Fresh fruit and vegetables contain essential nutrients which help prevent heart and circulation diseases.
The government has recommended that we should eat between 0% and 10% of dietary calories from sugars (non-milk). Currently we are eating 18-20% of our calories from sugar. Consumers have started buying less packet sugar, but hidden sugars in processed foods have been rising.
A large amount of money is spent an advertising sugary foods and drinks. For example, in 1997-98, Coca-cola spent £31.4 million on advertising. Children in particular have been targeted by advertisers, with typically eleven food adverts per hour. In contrast the Health Education Authority spent only £0.3 million promoting healthier diets.
Subsidies
Sugar is one of the most heavily subsidised agricultural commodities in the world. The United States (US) protects its domestic sugar producers with the US Sugar Program and the European Union (EU) does the same with its EU Sugar Regime. The main difference between these two systems is that the EU also exports subsidised sugar onto the world markets, but both have the effect of reducing the world price of sugar. Both systems have multi-lateral agreements with other (mainly poor) countries to import certain quantities of sugar. The EU works with African Caribbean Pacific (ACP) countries, to provide a protected market for sugar at EU prices. The costs of financing both systems is borne by the consumer, paying around double the world market price.
The real losers are the poorest countries who are not part of any bi- or multi- lateral sugar trade agreements. Sugar prices fluctuate rapidly and are currently at one of their lowest levels this century. Meanwhile, overproduction continues, especially in the EU which dumps any excess on the world markets, further exacerbating the low sugar prices on the world market.
---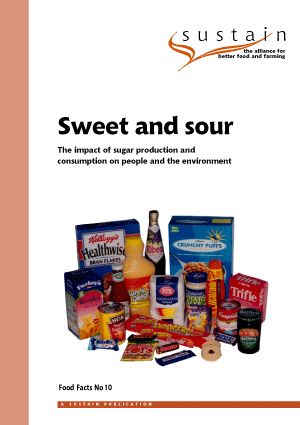 Sweet and Sour (Food Facts No. 10)
2000 | 1066Kb
Published 30 Sep 2003
Food Facts: A series of short reports on over a dozen different products, shows how people's shopping choices - as well as government policy - can protect the environment, enhance social justice and improve health.