This report looks at one of the ways that very large amounts of public money are invested in enterprise, infrastructure and communities across the UK – Local Enterprise Partnerships (LEPs).
In this report, the Sustain alliance argues for food, farming and fishing to have greater recognition within LEPs' priorities – and by the enterprises and communities that need financial support – as a key way of achieving multiple objectives.
Sustainable, healthy food and farming enterprises offer many economic and sustainability benefits yet have in most cases been developed without specific LEP involvement and funding. The benefits that better food and farming enterprises can deliver are very much in line with current Government priorities and commitments on sustainability, public health and with the goals of LEPs.
Targeting investment to drive a resilient, fair, sustainable system of food, farming and fishing should be a priority. LEPs have a key role in delivering this: fast becoming a focus for investment, they could revitalise infrastructure in local food systems which has been under-resourced for decades. Ensuring smaller food businesses are able to thrive by securing funding, infrastructure, support and training could help sustain and create jobs whilst also driving more sustainability and resilience in the food and farm economy. This report makes a number of recommendations for LEPs and local organisations and businesses in order to support and harness the potential to deliver more sustainable, equitable economic growth and jobs through food and farming.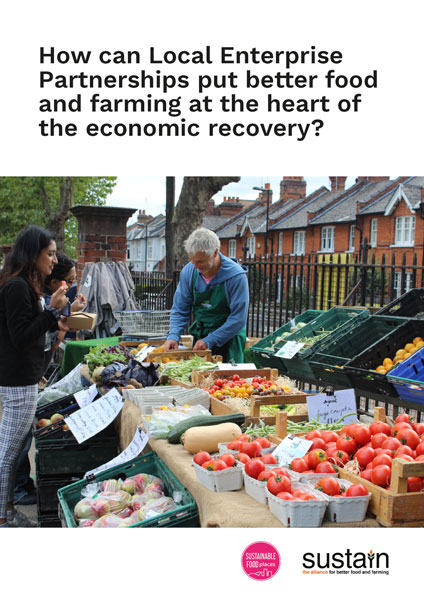 How can Local Enterprise Partnerships put better food and farming at the heart of the economic recovery?
33pp - 2020 | 2154Kb
Published 27 Oct 2020
Sustainable Food Places: The Sustainable Food Places Network helps people and places share challenges, explore practical solutions and develop best practice on key food issues, so if you are working to drive positive food change or are interested in developing a programme, please do get in touch.