Food and Covid-19: How local authorities can support recovery and resilience
Guidance on the principles, processes and partnerships that contribute to a strong council response, as well as suggested actions for improving food access.
The Covid-19 pandemic and its associated economic fallout have compounded and deepened household food insecurity and hunger in the UK, and those worst-hit are likely to continue to struggle as lockdown lifts. National government has a vital role in overcoming food poverty, through uplifting welfare, legislating to make employment more secure and better-paid, and funding public services. Local authorities also have a responsibility to ensure food security for their residents, and can be leaders in fostering local food resilience.
Whilst many local authorities have played this part impressively in the immediate response to Covid-19, this has not been without issues. For instance, the proliferation of re-distributed surplus food to meet increased need and even the purchase of very large amounts of food to give out, although understandable as a stop-gap measure, makes it harder to provide food aid in dignified ways, as well as further entrenches a food system that has high levels of waste and unaffordability built into it.
This new guidance from Sustain's Food Power and London Food Link programmes highlights three key areas that contribute to a strong local response: principles, processes and partnerships. This is followed by a series of suggested actions that local authorities can take to improve food access for different groups. Many local authorities are already incorporating a mix of these ideas and approaches into their work, and we hope that more will adopt similar strategies moving forward to support recovery and resilience in our local food system.
Table of contents
Introduction
Principles

Community wealth building
Dignity in practice

Processes

Maintain and amend emergency responses
Ways of working

Partnerships

Food partnerships and food poverty alliances
Food poverty action plans

Improving food access

Infants and young children
School age children
Older and disabled people
Physical access to affordable and healthy food
People in financial hardship

Summary
Further resources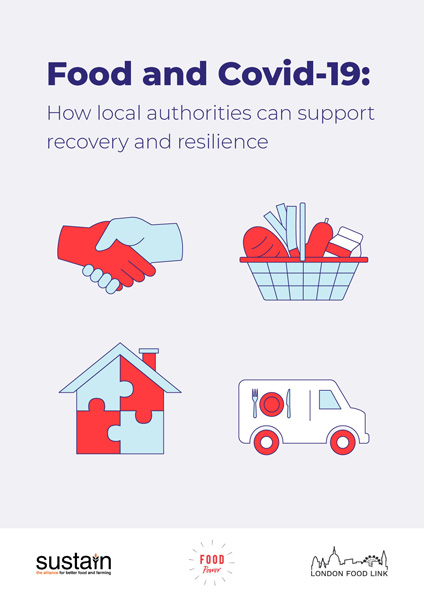 Food and Covid-19: How local authorities can support recovery and resilience
12pp - 2020 | 929Kb
Published 28 Jul 2020
Food Poverty: Millions of people in the UK struggle to get enough to eat. We're working to change that through people-powered projects and campaigns that tackle the root causes of food poverty and ensure everyone has dignified access to healthy, affordable food.