Community Food Retail and Food Poverty
Covid-19 has seen the growth of new, innovative ways to provide for people living in food poverty such as community food retail. With a growing need for such options in light of the continued Covid-19 crisis, this report explores the different models food poverty alliances could replicate in their areas and proposes a set of guidelines for delivering such projects.
The report finds that there are benefits and constraints to these models - offering cheaper, more dignified access to food in most cases but risking creating a second class food system through limitations from food surplus and redistribution offerings. Ultimately, such initiatives offer an imperfect approach in an imperfect world but if the right balance is found they could provide a life-line for those who need it.
Contents
Introduction
Background
Examples of community food retail schemes
Operations, funding and support
Debate about community food retail schemes
Further resources
Conclusions and considerations
Guidelines for developing community food retail projects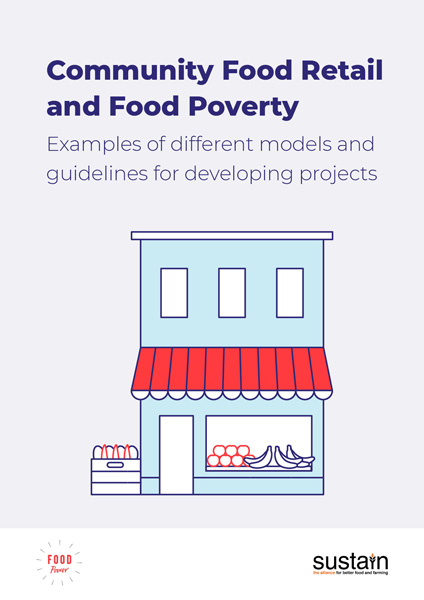 Community Food Retail and Food Poverty
15pp - 2020 | 1466Kb
Published 25 Sep 2020
Food Poverty: Millions of people in the UK struggle to get enough to eat. We're working to change that through people-powered projects and campaigns that tackle the root causes of food poverty and ensure everyone has dignified access to healthy, affordable food.