This publication aims to help orchard projects by supporting practitioners and local communities to enhance, protect and celebrate orchards.
This publication aims to help orchard projects by supporting practitioners and local communities to enhance, protect and celebrate orchards.
The orchard heritage organisation Common Ground calculates that, since 1950, nearly two thirds of England's orchard area has been destroyed. In some counties, the tally is even more striking - Devon has lost 90% and Kent over 80% since the 1960s. This is largely attributed to land development for other uses such as housing, the lack of legal protection for orchards, and commercial pressures on farmers to produce more profitable crops, alongside competition from cheap imports.
Orchards are like many-faceted jewels that connect us to our heritage, a plethora of wildlife and fruit varieties, and wonderful opportunities to enjoy traditional agricultural landscapes and customs.
Managed appropriately, even in a time of highly competitive food marketing, orchards can bring economic benefits to local communities, especially when they build on distinctive characteristics and provenance to build customer interest and support.
Research for this good practice guide revealed that traditional and smaller orchards can be restored and conserved, but this needs considerable enthusiasm, community and other support, and not least, creativity. We can also learn from other European countries such as France, Italy, Spain and Germany, where vineyards, olive groves and fruit and nut orchards are still important and prominent aspects of the landscape, culture, gastronomy and economy, and receive legal and marketing support from regional and national authorities.
During 2006 and 2007 Sustain; the alliance for better food and farming worked with Leader+ to develop an Orchard Co-operation Project to bring together experience from sustainably managing orchards in six Leader+ areas: Herefordshire Rivers; Somerset Levels & Moors; Teignbridge; North West Devon; Mid Kent Downs; and Cumbria Fells & Dales.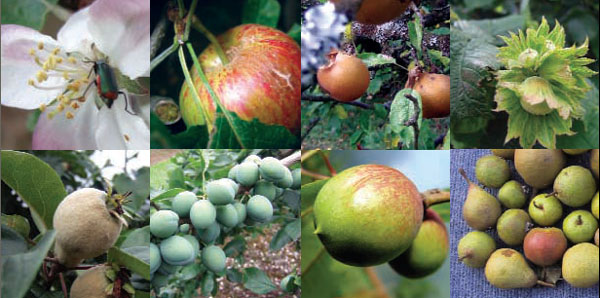 The Orchard Co-operation Project culminated in production of this good practice guide for orchard project management. Its purpose is to help current and future orchard projects, supporting practitioners and local communities in enhancing and protecting orchards. It focuses on setting up and running orchard projects, giving practical advice on project-management issues such as setting objectives, fundraising, good communications and measuring successes, and finally explores possible challenges for the future. It draws on many successful examples of Leader+ and similar projects, and other orchard-related activities around the UK and elsewhere. We hope that this good practice guide will inform and inspire orchard enthusiasts everywhere, to take practical action to conserve our orchard heritage for the enjoyment of generations to come.
"The finished (report) is absolutely fantastic, a great balance of enough information to make it really useful but not so much as to make it cumbersome or hard to navigate. We've had really good feedback from people who have seen it so far".
Dawn Turner Programme Manager at Herefordshire Leader+
---
Publication contents
Foreword
Chapter 1: Introduction
Traditional orchards are under threat
How can orchard projects help reverse this trend?
Background to the Orchard Co-operation Project
Chapter 2: Finding out more about your orchard
Orchard history, heritage and culture

The importance of history and heritage
Orchard heritage and how to research it
Orchards and archaeology

Orchards, wildlife and crop diversity
The landscape

The significance of orchards
Protecting orchards from development

Orchard mapping

Why is mapping important?
Useful mapping advice

The financial value of orchard products
Chapter 3: Exploiting the many benefits of orchards
Educational activities

Running courses to promote orchard skills
Taking training a stage further
Working with schools
Integrating orchards into the school curriculum
Orchards and healthy eating in schools
Raising awareness through arts and theatre

Community well-being

Community orchards
Health and the wider community
Community food projects
Amenity and public access

Restoring and safeguarding biodiversity and landscape

Promoting genetic diversity
Official designations that aid conservation
Orchard management guidance

Creating a thriving local economy

Adding value
Buying fruit processing equipment
Foods and branding linked to 'landscape character'
'Protected Name' schemes
Exploring different outlets for produce
More ways to gain support for local orchard produce
More than fruit and nuts
Attracting orchard tourists
Hiring out orchard space to generate income
'Sponsor a Tree' schemes and crop sharing
What type of business?
Chapter 4: Attracting funding and other support
Issues to consider and sources of funding

Funds from the public
European, national, regional and local support
Charitable trusts and foundations
The National Lottery
Support from local businesses
Measuring success

The importance of good communications

Events and festivals
Publicity
Engaging the community
Interpretation for visitors
Generating media support
Starting a campaign
Chapter 5: Looking to the Future…
Appendices
Appendix 1: Business plans and funding applications
Appendix 2: Traditional Orchards in the UK Biodiversity Action Plan
Appendix 3: Contacts and useful information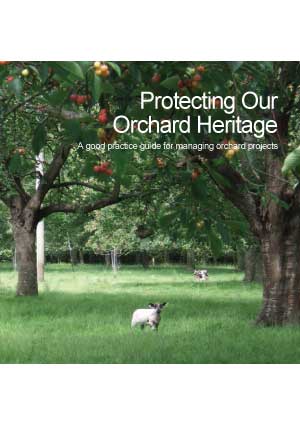 Protecting our Orchard Heritage - a good practice guide for managing orchard projects
ISBN: 978-1-903060-46-9 128pp - 2008 | 4810Kb
Published 1 Feb 2008
Orchards Project: During 2006 and 2007, Sustain worked on a national orchard project with Leader+ (European Union funded programme of rural development) to conserve and bring into sustainable management traditional orchards in 6 Leader+ funded areas: Hereford Rivers; Somerset Levels & Moors; Teinbridge; North West Devon; Mid Kent, and Cumbria Fells & Dales.