Protecting children from unhealthy food marketing
A British Heart Foundation and Children's Food Campaign proposal for a statutory system to regulate non-broadcast junk food advertising and marketing to children
---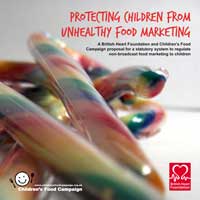 A British Heart Foundation and Children's Food Campaign proposal for a statutory system to regulate non-broadcast junk food advertising and marketing to children.
Public interest groups have long made the case that our current system of regulating nonbroadcast (i.e. not on television or radio) marketing of unhealthy food to children is not adequate. This report is the first attempt in the UK to design a statutory system of regulation for non-broadcast food marketing that protects and promotes children's health.
Children's dietary health, in particular childhood obesity, is widely recognised as one of our most pressing public health problems. The recent Foresight report on obesity makes grave predictions for the future state of the nation's health unless we act now. Without action, 55% of boys, and 70% of girls, could be overweight or obese by 2050 and obesity will cost the country £45 billion a year.
Food advertising and marketing, which is almost always for unhealthy products, plays an important role in encouraging unhealthy eating habits in children. These habits are likely to continue into adulthood. It has been shown that advertisements affect food choices at both brand and category level i.e. a McDonald's burger advert is likely not only to make a person more likely to buy a branded McDonald's burger over another brand, but also more likely to buy a burger per se. Hence, recent efforts have been made to restrict television advertising of unhealthy food to children. These regulations acknowledge the particular susceptibility of children to the influences of advertising. However, there are currently no legal limitations on non-broadcast marketing aimed at children.
This report analyses legislation in Quebec and Sweden that stops the television advertising of all food to younger children. It suggests that a number of legal devices used in their legislationcould be helpful in the UK, especially the Quebec grid that decides which advertisements should be controlled. The report also considers if there are
useful legal precedents in UK legislation to control tobacco marketing. The definition of 'advertising' used in this legislation covers anything with the purpose or effect of promoting a tobacco product, which is helpful in covering the range of marketing techniques outlined in this report.
This report proposes a regulatory system based on the principle that individuals and organisations must not act in a way where the purpose or effect is to promote an unhealthy food product to individuals under the age of 16. This
should be a statutory system enshrined in law, not a voluntary industry code. Adopting this system, we believe, would have a significant impact on protecting and improving the health of children in the UK.
---
Report contents
1. Introduction
2. Diet-related diseases and unhealthy food marketing
Prevalence of diet-related ill health in the UK, including childhood obesity
The role of food promotion in making food choices
Regulation of unhealthy food advertising in broadcast media
Lack of regulation of unhealthy food marketing in non-broadcast media
Conclusions
3. Non-broadcast unhealthy food marketing - what the existing regulation does and does not say
What regulations are currently in place - the CAP Code and others
What the current regulations do not cover

Product-based
Promotional
Placement

Criticisms of the current codes

The language used
Definition of 'children' and 'unhealthy food'
Enforcement

Conclusions
4. Models of good practice
Tobacco control in the UK
Examples of unhealthy food marketing controls from other countries
Conclusions
5. How to protect children from non-broadcast marketing of unhealthy food
What the rules should be

General principles
Defining 'unhealthy food'
Defining 'targeted at children'
Marketing in store
Regulating websites
Brand advertising

Legislation and enforcement

The role of the ASA
Proposed role of Trading Standards Offices (TSOs)

Conclusions
6. Conclusion
Appendices
he revised CAP Code
ICC International Code of Advertising Practice
Draft enforcement sheet for TSOs
---
01/01/2008
Children's Food Campaign
SHARE
---