Children's Food Campaign needs your help to end the school food postcode lottery. Ask your MP to raise their voice for the children in your area so that all children have fair chance to a decent hot meal.
It's exciting to see the start of the roll out of free school meals to all primary school children in London this week, thanks to additional funding of £135 million from the Mayor of London. Scotland and Wales are also actively working towards primary school meals for all children. Some London boroughs including Southwark, Tower Hamlets and Westminster are also now expanding provision of school lunches to more secondary school children. Other areas are also extending access, with pilots from York to Stockport.
Sadly this is not the case everywhere! Equal access to school meals for children has become a postcode lottery, as the map below clearly shows. Depending on age and location, not all children have the same chance of winning. This is not fair but YOU can help change this.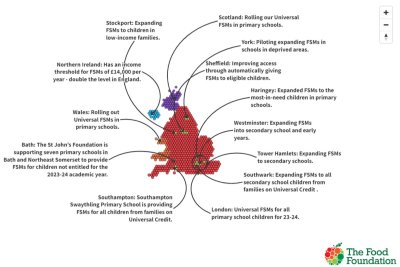 Our new e-action makes it easy for to ask all our MPs to speak up for children - within their own party and with Government ministers – so that every child has an equal chance and a healthy meal. We have made it super easy to raise your voice on this through our letter template which will only take 2 minutes.
The public have already shown massive support for this - new research commissioned by the School Food Review Working Group shows both Labour and Conservative target voters overwhelmingly support the expansion of free school meals to more children. 7 in 10 people think the current threshold of entitlement for free school meals (just £7400 annual income) is too low, or simply should not exist at all.
Headteachers, parents and young people themselves are clear that building an inclusive, healthy school meal system has so many benefits beyond just preventing children from going hungry. It supports concentration and better learning in class for everyone. It encourages children to try new foods and eat more fruit and veg. It ends the stigma created by means-testing children and families. It alleviates pressures and worries for parents, especially in the midst of the ongoing cost-of-living crisis.
That's why MPs need to step up now to put an end to this unfair postcode lottery, and why we want everyone to write to them today. Only the national Government has the power to hit the jackpot and secure healthy food for every UK child in every school.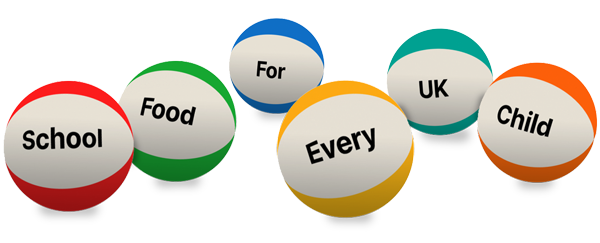 Ask your MP to end the school food postcode lottery now
Support our campaign
Your donation will help us champion children's rights, parent power and government action to improve the food environment children grow up in.