Online NOURISHING tool lets you check healthy food policies across the world
Sustain member the World Cancer Research Fund's newly updated database is a valuable tool for policy makers, researchers and organisations to search for government policies on healthy eating from across the world.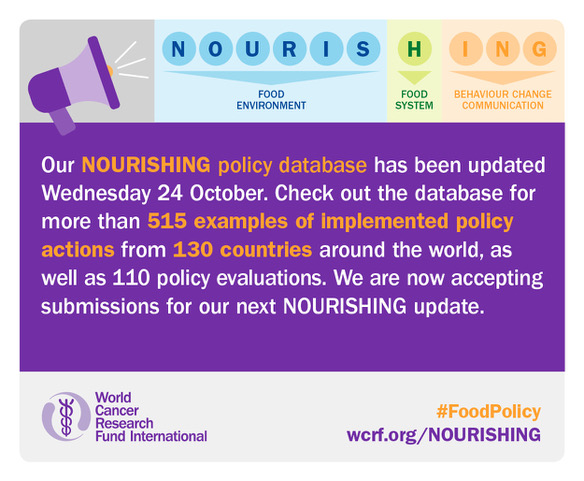 You can search the NOURISHING database to find information on over 515 government policy actions implemented across 130 countries and 110 evaluations of implemented policies.

World Cancer Research Fund analyse global scientific research which shows that there is a link between the food we eat and our risk of cancer. They are working with policymakers around the world to promote healthier eating, prevent obesity and non-communicable diseases (NCDs), including cancer.

Newly added information to the database shows:
Bermuda is the most recent country to have implemented a sugar-sweetened beverage (SSB) tax – it went into effect 1 October 2018. In July, France increased the rate of their SSB tax. There are now 47 jurisdictions globally who have implemented an SSB tax – momentum continues to build.
Canada has introduced a complete ban on food producers adding trans fat to their products on 17 September 2018.
In Australia, Victoria is the latest state to require restaurant chains to display kilojoule content of food products on menu boards.
Even more cities in the United States now require restaurants to make healthy beverages the default beverage in children's meals, recent action includes the City of Baltimore, Daly City and Louisville.
World Cancer Research Fund would like to hear more about the food policy actions being implemented in your country. Please email them at policy@wcrf.org to highlight your country's progress.

Different uses for the NOURISHING tool:
Policymakers can use NOURISHING to:
Identify where action is needed to promote healthy diets
Select and tailor options suitable for your populations and assess if your approach is sufficiently comprehensive
See what other countries are doing
Civil Society Organisations can use NOURISHING to:
Monitor what governments are doing around the world
Benchmark progress
Hold governments to account
Researchers can use NOURISHING to:
Identify the evidence available for different policies
Identify research gaps
Monitor and evaluate policies
---
27/10/2018
Children's Food Campaign
SHARE
---
Children's Food Campaign: Better food and food teaching for children in schools, and protection of children from junk food marketing are the aims of Sustain's high-profile Children's Food Campaign. We also want clear food labelling that can be understood by everyone, including children.