Every Mouthful Counts report: Six in ten councils omit food and farming from their climate plans
Sustain calls for action from UK government, as results show national targets in Scotland and Wales lead to better performance.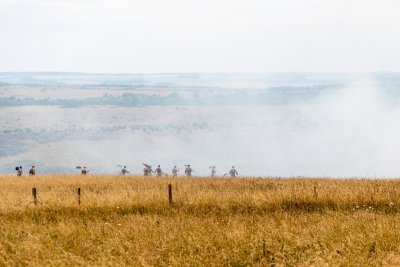 Credit: Shutterstock
Six in ten local councils omit food and farming in their plans to tackle climate change, a new report by food and farming charity Sustain has found, despite the food system contributing a third of all UK greenhouse gas emissions. The UN has warned that our efforts to curb the climate emergency will fall short without large-scale changes in land use, agriculture and diets.
With an annual procurement spend of £70 billion, and as owners of up to 1.3 million acres of land, UK councils have significant opportunities to take action on climate change. Sustain found evidence of better performing councils taking action on food and farming including buying sustainable food for council catering, ensuring their county farms are sustainable, allocating land for local food growing and supporting citizens to eat more healthy, sustainable diets. But the findings from Sustain show that the majority are not doing so.
Councils' services and food production in the UK are already being disrupted by extreme weather. Food price rises caused by climate change will cost the average UK household an estimated £170 this year. Farmers are already counting losses from extreme weather in summer 2022, and dangerous flooding is predicted in February.

Sustain examined the climate, biodiversity and food plans of 179 UK Local Authorities and found that:
Six in ten councils (59 per cent) did not include significant or meaningful action to reduce emissions from food and farming.
29 per cent only had 'barebones' policies or plans in place.
Only 21 councils (about 12%) had more developed and measurable policies in place to cut food-related emissions. These are recognised as leaders.
Ruth Westcott, climate and nature emergency co-ordinator at Sustain said;
"In the UK we have huge potential to grow more food, more sustainably, support great sustainable farmers and tackle the cost of living crisis and the climate crisis at the same time."
We found examples of local councils doing a great job and there is lots they can do, from making their own farms sustainable to driving down food waste and opening up school food contracts to higher standard British farmers. Our Food for the Planet programme is full of ideas, drawing on examples of places who are already working on this. We also want to encourage councils to go further - adopting responsible food advertising policies, using planning powers to support sustainable farming but block polluting factory farming, and de-investing their pensions from intensive agriculture.
Our research also showed how much national leadership matters. We now call on national governments to step up. The Westminster government must set clear targets and a pathway for reducing emissions from food and farming in the UK's net zero strategy. This should include targets for local governments and - as a start - set standards to ensure that all meals served in the public sector reflect the Eatwell Guide. Councils must be given the resources they need to support a transition to more sustainable farming and diets at a local level."
Leading council actions
The report provides evidence of councils' ability to act, with pioneering authorities including Brighton and Hove, Bristol, Cardiff, Central Bedfordshire, Cheshire West and Chester, Clackmannanshire, Devon, Dorset, Ealing, East Ayrshire, East Lothian, Glasgow, Greenwich, Middlesbrough, Monmouthshire, Somerset, Surrey, Telford and Wrekin, Tower Hamlets and the Vale of Glamorgan taking action including buying healthy and sustainable food for schools; meals in the community ('Meals on Wheels'); social services catering; staff catering and events. Food purchasing includes in the region of three million meals daily in more than 23,000 state schools, with an annual turnover of over £360 million UK-wide. Leading councils have set up localised purchasing systems, and encouraged more climate-friendly diets through public communication. Other councils were found to be increasing allotment and community food growing provision, transitioning council-owned farms to agroecological practices and tackling the causes of food waste.
Many of the leading councils were found to be working with a Sustainable Food Partnership. Places with food partnerships scored on average 11% higher in this research, and were found to have more measurable and comprehensive plans to protect our planet's - and our own - future through food.
Significant differences were found in council policies between UK nations
The report also found that national policy and targets on food growing and food waste in Scotland and Wales translated into better policies and more action at local authority level. For example, only 16% Scottish councils were judged in the research to have an 'inadequate' policy on farming and food growing, compared to 54% in the rest of the UK.
Action is urgently needed at a national and local level
The report found that, despite public support for tackling climate change and eating better diets, food is missing from most climate policies and reducing emissions as a whole. The UK Government must set targets and a reduction pathway for food, farming and diets as part of the review of their net zero strategy - including transitioning to agroecological farming and more sustainable diets. A detailed and ambitious plan to bring down emissions from farming, land use and our diets would support farmers, make our food system more resilient, create jobs and improve our health.
Local councils need more power and resources to deliver solutions to climate change that work for their locale, including for food and farming. Large-scale industrialised 'factory-farming' is on the rise in the UK, and factory farms are polluting our air and water and posing a risk of antimicrobial resistance. Bird flu has already reportedly meant 3.5 million chickens culled on UK farms in 2022. Local authorities must have the power to prevent new planning applications for industrialised agriculture on climate change grounds.
Published 10 Nov 2022
Food for the Planet: Food for the Planet is helping local authorities, businesses and organisations take simple actions to tackle the climate and nature emergency through food.