Groceries by day restaurant by night
Eat Your Greens is a Leeds restaurant with a twist. During the day they are open as a grocery store, selling local organic produce and fruit & veg boxes. After 4pm they transform into a restaurant and open for dinner serving a weekly changing menu to reflect what's in season.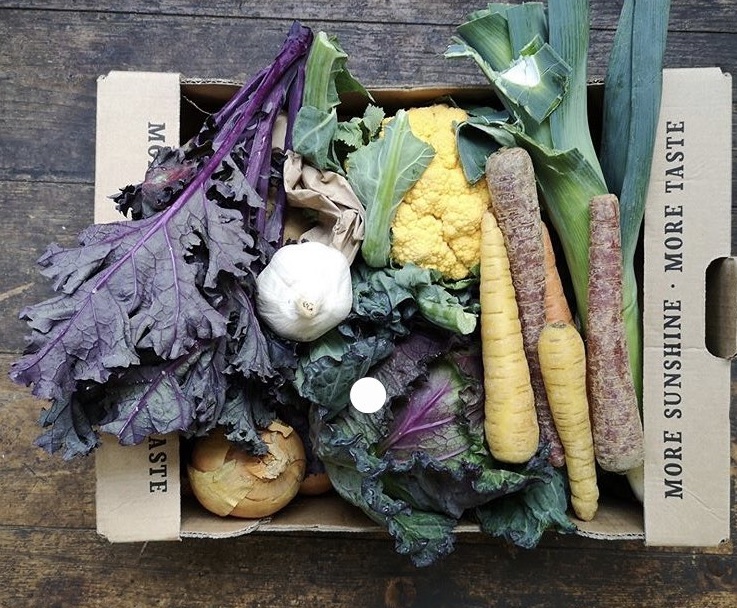 Eat Your Greens veg box. Credit Food Wise Leeds
Eat Your Greens is the latest pledger in the Leeds Veg City campaign and they have made four different pledges so far.
⁠Good advertising: They promote organic fruit and vegetables via social media platforms and website.
Set up a veg stand: They sell organic veg from local farms in their grocery store during the day.
Include two portions of veg in every meal: They pledged to serve two portions of vegetables in most meals.
Grow or cook extra vegetables to donate: Since the start of lockdown, they started to invite customers to donate a fruit & veg box to local charity PAFRAS (Positive Action for Refugees and Asylum Seekers) who supports people who have no recourse to public funds and therefore cannot access food banks. They match that donation to double the amount of fruit & veg offered.
Sustain are encouraging more areas to launch Veg Cities campaigns and get local businesses and organisations making veg pledges. Veg Cities is a feature campaign of Sustainable Food Places and is run in partnership with Peas Please.
Support our charity
Your donation will help communities across the UK to increase the availability and consumption of vegetables.