Sustain is proud to co-sign a letter signed by more than 50 public health directors, sector experts and healthcare professionals to Rishi Sunak (The Chancellor of the Exchequer) and Matt Hancock (Secretary of State for Health and Social Care) calling on Government to allocate additional funding to the Healthy Start scheme which supports low-income families.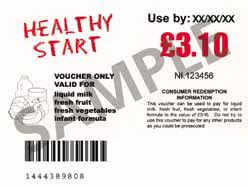 Healthy Start provides young pregnant women and low-income families with children under the age of 4 in England, Wales and Northern Ireland with free vitamins for mothers and children, and food vouchers to purchase vegetables, fruit, pulses and cows' milk.
The sector experts and healthcare professionals are calling on the Government to put £115 million/year of additional funding towards improving the Healthy Start scheme by implementing the recommendations proposed in Part One of the National Food Strategy:
Increase the value of Healthy Start vouchers to £4.25 per week
Expand the scheme to every pregnant woman and household with children under four in receipt of Universal Credit or equivalent benefits
Fund a communications campaign costing £5 million
The value of the voucher has not increased since 2009, despite inflation during this period having increased by 3.1%. Expanding the scope of the scheme to include a larger proportion of low-income families would benefit an additional 290,000 pregnant women and children under the age of 4. In 2019, less than 50% of children (in England, Wales and Northern Ireland) living in poverty were entitled to support from the Healthy Start scheme, and only 33% actually received it due to implementation problems. For families to benefit from this scheme, a concerted effort is needed to reverse the trend of low take-up. In June 2020, the take-up rate dropped to 48% (251,547 beneficiaries), meaning that 272,080 eligible beneficiaries were not registered for the scheme. Better communication and proactive promotion of the scheme through local authorities, health visitors, community organisations and UK retailers is required to better notify and engage those who are eligible for the scheme. Accelerating the digitisation programme (delayed until October 2021) would also help to remove the time and administrative burdens that are significant barriers to uptake.
Support our charity
Donate to enhance the health and welfare of people, animals and the planet.