Rugby club helping to tackle low veg consumption in Hull
With resources from the Veg Power campaign, Hull Food Partnership is collaborating with Hull Kingston Rovers Community Trust to produce recipe cards featuring the ten veg-of-the-week and inspire children to cook and eat vegetables by having fun in the kitchen preparing simple and nutritious dishes.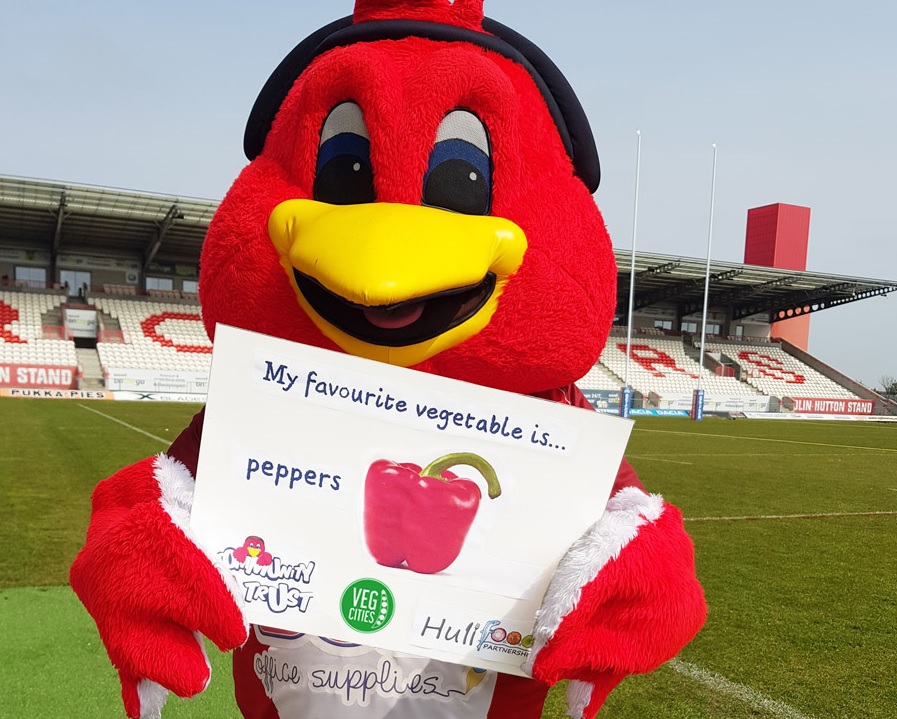 The project developed from a meeting between Hull Food Partnership, The Healthy Lifestyles Team of Hull City Council and Hull Kingston Rovers Community Trust to discuss action pledges under the Veg Cities campaign.
The rugby club was interested in promoting vegetables from a nutritional point of view to their audience, including young people engaging with the club via matches and through activities run by their community trust.
Helen Schofield, Hull Kingston Rovers Community Trust manager says: "We are proud to be able to support this fantastic initiative to inspire children and families to include more vegetables in their diet. This links into our Teaming up for Health activities which encourage and support local people to lead healthy lives. The recipe cards are a great idea and it's great to be involved. We look forward to seeing how children and young people use them."
Local nutritionists Milena Minichiello and Diana Sandy had already been asked to write veg-themed blogs for the Hull Veg City 'nutrition month' in January and wrote ten veg-based recipes for the Veg Power campaign.
The recipes received the green light from Hull Kingston Rovers who analysed the nutritional qualities of each recipe using software they normally use to design the meals for their professional players.
The wording and graphics of recipes were then 'monster-i-fied' to appeal to children in line with the #EatThemToDefeatThem campaign. The cards are being displayed at Hull Kingston Rover's ground and promoted by the Community Trust.
The cards are available to view and download at www.hullfoodpartnership.org.uk/veg-power
Sustain are encouraging more areas to launch Veg Cities campaigns, and get local businesses and organisations making veg pledges. Veg Cities is a campaign of Sustainable Food Cities, and is run in partnership with Peas Please.
---
07/05/2019
Veg Cities
SHARE
---
Veg Cities: Veg Cities is a feature campaign of the Sustainable Food Cities led by food and farming charity Sustain in partnership with the wider Peas Please initiative led by the Food Foundation, Nourish Scotland, Food Cardiff and WWF.