New routes to better markets for farmers and growers
Whilst Brexit is forcing a rethink of a crucial portion of most UK farm incomes - the farm subsidies - when we leave the European Common Agriculture Policy, it would be a mistake to ignore the market side of the calculation. How will farmers secure a decent return from the market place for decent food production, with (or even scarier, without) subsidies? With the single market possibly gone, and new trade deals and huge regulatory changes ahead it seems crucial to ensure farmers have access to a diverse and fairly trading marketplace.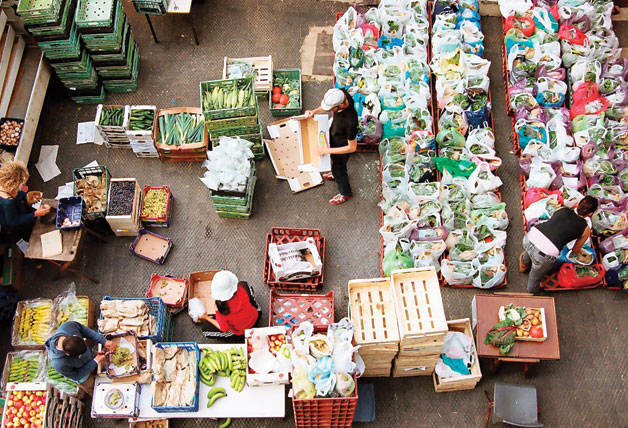 Yes, the supermarkets do dominate our food system. They seem omnipotent and most farmers are having to sell to just a handful of powerful buyers. Weak planning and competition rules have allowed their ugly spread across the land and new mergers and acquisitions, such as the Tesco buyout of Bookers wholesalers, create even bigger companies and a stranglehold over supply chains. Much has been said, and campaigns formed to tackle this dominance which has harmed farmers, their farmed land and consumers over the past decades.
Yet some people are choosing to shop differently and loyalty to the big food retail brands has been fading for a while. People are increasingly looking for genuinely affordable, kind and healthy food - from local box schemes, coops and farmers markets to internet retail and Community Supported Agriculture. This means the alternative routes to market are growing and therein lies a crucial lifeline for farmers – if they understand their market and can cooperate together to serve this growing customer base well..
A new initiative aims to make it easier for people to choose better food and so support these farmers. The Better Food Traders network has been formed to support the genuinely sustainable alternatives and challenge the dominance of the multiples.
It is starting to challenge the despondency amongst farmers wanting a new fairer, appreciative route to market. Better Food Traders aims to be "changing the way food works so it's fair, sustainable and better for all our futures" and it has ambitions to grow.
The concept is, by design, not uniform or easily branded. It is just starting out but already has 12 wonderful food traders on its books ranging from the box based Crop Share scheme in Burnley Lancashire (which takes Healthy Start Vouchers) to the Growing Communities initiative in Hackney, north London which includes a fruit and veg pick up scheme; an organic Farmers' Market (with 25 farmers and producers) and patchwork farms.
Supporting BFT is one logical way to build a new vision for a diverse, fairer food system that allows citizens and consumers to reward good producers by buying their food and to have a far closer relationship than the norm. And the shorter the chain the better the communication and the less likely there is for confusion or even contamination and loss of quality. Sustain and others are helping BFT grow and make a difference.
There is no doubt we need action elsewhere too to curb unfair dealing by the food industry. One way is to regulate what the big players down the chain can do. Some progress has been made with a stronger legal Groceries Code of Practice and the formation of the Groceries Code Adjudicator (GCA) which came about as a result of member campaigns. It is good to see some mention in Party election manifestos of the need to extend the GCA's remit to cover as much of the food system as possible. This is a core demand of the Groceries Code Adjudicator Network we formed with partners including TraidCraft, Tenant farmers Association, Friends of the Earth and the National Farmers Union.
We also need farm and trade policy to better support local initiatives supplying local food traders. And planning rules should be curbing the rapacious growth of superstores at local level as new stores and increasing store size locally increases market share and can create ghost towns and empty high streets. A local competition test is sorely needed. Reading just has its 14th store open and the Tesco Towns wiki website shows just how the company takes over. Tescopoly – the organisation supporting local communities fighting (all) superstore development - is clearly still very busy.
This all means that the alternative market really really matters. Farmers and growers need a range of markets to sell to. If you can buy your food from one of the BFT members please do – you can check them out here and BFT itself also needs support to grow via volunteering, donations and promotion.
Photo: credit Sophie Verhagen caption: Growing Communities, London
---
15/05/2017
Food and Farming Policy
SHARE
---
Food and Farming Policy: Sustain encourages integration of sustainable food and farming into local, regional and national government policies.