Cross party group calls for measures to promote local food, investment in local food infrastructure and new duties and powers for local authorities and communities to promote economic growth in a climate crisis.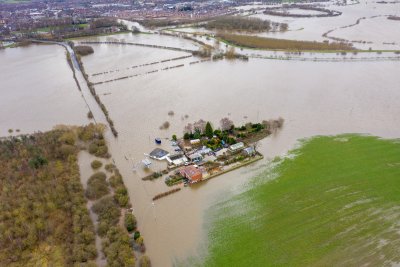 Aerial shot of the flooded town of Allerton Bywater, Yorkshire. Copyright: LD Media UK | shutterstock
A new report is calling on radical new solutions to meet climate targets. It acknowledges the need to address huge gaps in access to food between rich and poor, a depleted UK agriculture sector which produces only around 50% of the food we eat and the high impact of the food and farming sector on emissions and biodiversity.
Solutions span both national and local dimensions with an emphasis on localism and more duties as well as powers to local authorities and communities to increase their control and involvement in the food system.
At the national level, the report calls on measures such as a Food Bill along the lines already established in Scotland; an action plan within which the agri-environment sector must meet its designated 68% reduction of carbon emissions by 2030; a £300-500 million Local Food Investment Fund for investment in localised agri-food infrastructure and enterprise within existing funding streams such as Levelling Up funding and a planning reform to safeguard Grade 1 and 2 land for peri-urban, agro-ecological farming.
At the local level, the report calls on local authorities to produce Community Food Strategies along the lines taken by Scotland and Wales, linking food security and climate security; as well as climate emergency plans which must include policies to tackle food emissions.
Local authorities should be empowered to acquire Land Banks, supporting the development of localised food initiatives; and should be included, as key local stakeholders, in the design and implementation of the Environmental Land Management Scheme (ELMS) to ensure it delivers locally on Net Zero, land use, adaptation and biodiversity strategies.
To promote local food, the report recommends food outlets should be entitled to business rate reductions if 50% of their produce is grown within 50 miles of the locality.
The report 'Local Edge: An Enquiry into Climate Politics and the Economics of Recovery' was led by Caroline Lucas MP and Clive Lewis MP, Co-Chairs of the Green New Deal All Party Parliamentary Group. It outlines solutions for delivering CO2 reductions and promote economic growth in three areas of the economy: heat, energy and buildings; food, land use and nature and transport and air quality.
Sustain provided input in an evidence session on food, land use and nature, alongside Sustainable Food Places network member Brighton and Hove Food Partnership, Sheffield's Regather, Professor Tim Lang and others.
Support our charity
Donate to enhance the health and welfare of people, animals and the planet.