The World Health Organisation has added sweetener aspartame, used in products like soft drinks and chewing gum, to its list of possible carcinogens. However, a second WHO committee has ruled that it is safe to consume at current levels.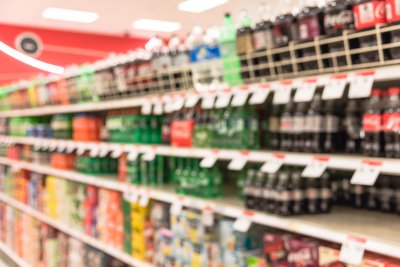 Blurred image of soft drinks aisle in supermarket. . Copyright: Trong Nguyen | shutterstock
The International Agency for Research on Cancer (IARC), the WHO's cancer research arm, has added aspartame to the list of possible carcinogens but said that further investigations need to take place. Meanwhile, a separate report from the WHO's food additive committee (JEFRA, the Joint Expert Committee on Food Additives) has reviewed the data on consumption and concluded that adults can safely consume up to 40mg of aspartame per kilo of body weight, meaning that current recommended daily limits of consumption remain the same.
Aspartame is one of many artificial sweeteners that major food manufacturers have been using in a variety of processed products in place of sugar.
There is evidence that excess sugar consumption may increase the risk of several diet-related diseases including type 2 diabetes, cardio-vascular disease, several types of cancer as well as contribute to tooth decay.
Sustain strongly supports sugar reduction programmes and reformulating products to remove sugar from recipes. Sustain has always advocated that food and drink manufacturers should also reduce overall sweetness levels of their products too, rather than simply replicating them or increasing levels of artificial sweeteners.
Responding to the WHO's latest announcement, Sustain's deputy chief executive Ben Reynolds says:
"This decision by the World Health Organisation makes the case for the food and drink industry to phase out the use of aspartame. The healthiest sugar-free drink is pure water.

"But we would also ask whether our food and drink really needs to be as sweet as it is. It's time for the whole food and drink industry to change the recipe. Experience shows that they will only do that and speed up their innovation if government creates a level playing field through regulation."
Notes
All ingredients in UK food and drink are subject to food safety assessments, conducted by the Food Safety Association (FSA). The law then determines how much of that ingredient is permissible in foods and drink, and government sets an acceptable maximum daily intake level.
Aspartame (E951) is an artificial sweetener that is around 200 times sweeter than sugar. It is most commonly found in global brands of soft drinks, confectionery, chewing gum and sometimes in other products such as low sugar yoghurts. Alternatives to artificial sweeteners such as aspartame or acesulfame potassium include stevia, fruit juice concentrates or sucralose. All ingredients must be listed on product labels.
More information.
Cancer Research UK Do Artificial Sweeteners Cause Cancer
Action on Sugar Sugar Replacers
NHS The Truth About Sweeteners
Latest WHO Guidance on Use of Non-Nutritive Sweeteners
The Department of Health's Scientific Advisory Committee on Nutrition (SACN) latest discussion document on Non-Nutritive Sweeteners
Published 14 Jul 2023
Children's Food Campaign: Better food and food teaching for children in schools, and protection of children from junk food marketing are the aims of Sustain's high-profile Children's Food Campaign. We also want clear food labelling that can be understood by everyone, including children.
Support our campaign
Your donation will help us champion children's rights, parent power and government action to improve the food environment children grow up in.