The Environment, Food and Rural Affairs (EFRA) Committee is consulting on public procurement.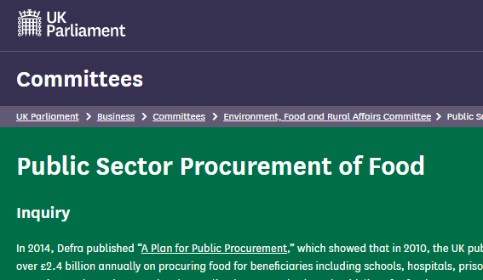 Online consultation closes 27th August
Anyone with an interest in, or information about school, hospital, armed forces, prison, or older people's food is encouraged to submit evidence, and you have until 27th August to do so.

The Committee is welcoming specific information and evidence on:
- Environmental outcomes: are the current food procurement rules benefitting the environment and SMEs?
- How much flexibility will the UK have to change food procurement rules outside the EU?
- Future priorities: How can our procurement rules be improved?
- Should we be 'Buying British?'
- New trade deals: How should the Government support these priorities in the negotiation of new trade deals?

Sustain's response will consider the Government Buying standards as they exist now and why they are important – especially for fish. We will make the case for stronger standards, with evidence of the benefit this would bring for UK producers, the environment, our health and good jobs.

Our response will also provide evidence of where the current standards are not being followed and why, and recommendations for improving regulation and monitoring. Future trade deals may pose a risk to the UK's food. We will outline those risks and how they can be mitigated.
Support our charity
Donate to enhance the health and welfare of people, animals and the planet.