Happy Birthday Sustain! Parliamentary reception
On 18 June 2019, Sustain held its first ever parliamentary reception to celebrate our 20th birthday and bring the Government's forthcoming National Food Strategy to the attention of parliamentarians.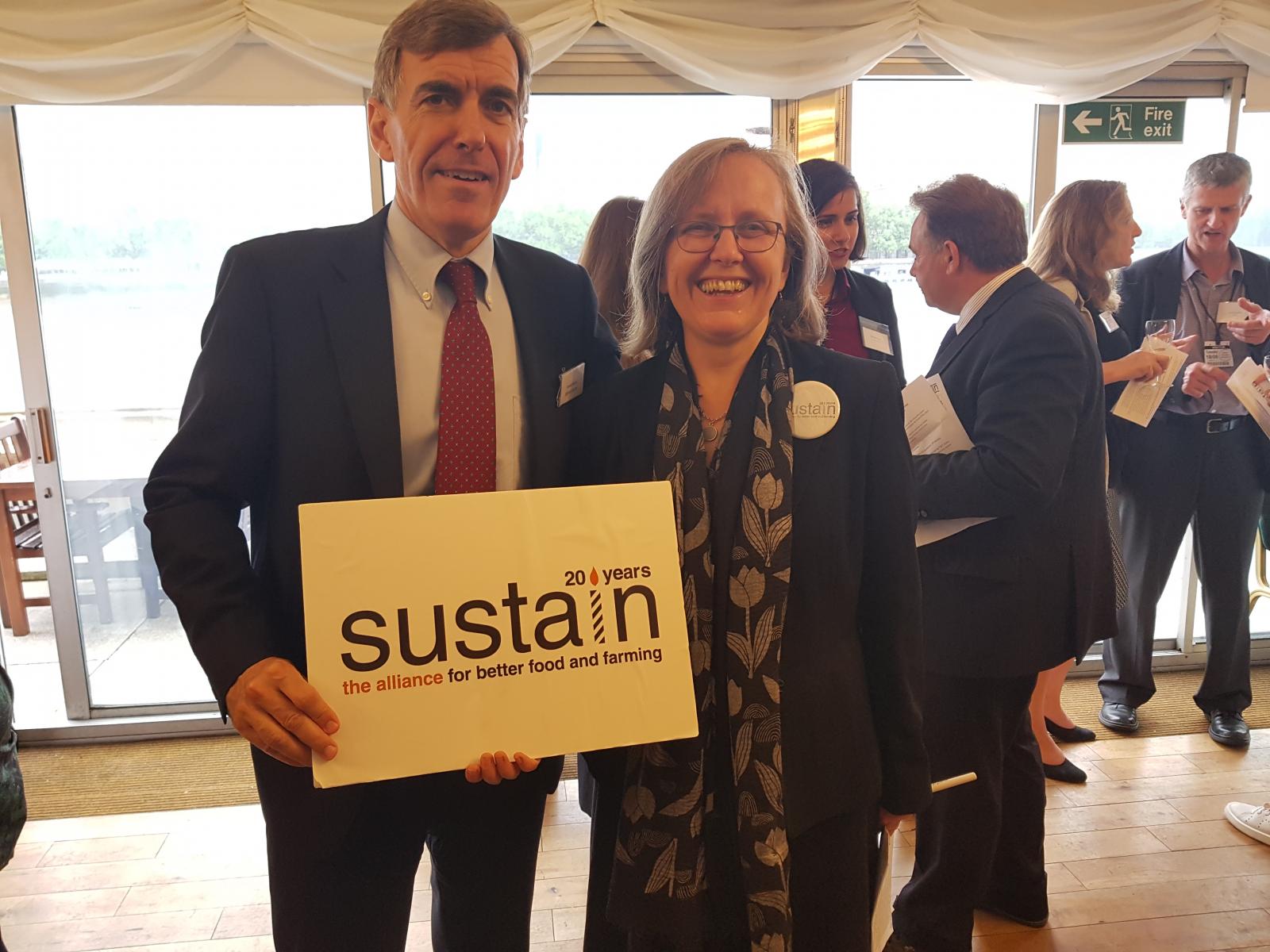 The event, held in the House of Commons Thames Pavilion, was attended by more than 140 people, including a number of MPs and peers. In his speech, David Rutley MP, Minister for Food and Animal Welfare (pictured above), congratulated Sustain on our 20th birthday and told us how much the Environment Secretary Michael Gove had enjoyed working with the alliance, particularly on the Agriculture Bill consultation event Sustain co-hosted with Defra in spring 2018.
David Rutley MP went on to say how vital it is that we take on the climate challenge with urgency - at home and globally, and that our decisions about food reflect our values as a society - for one another and for nature.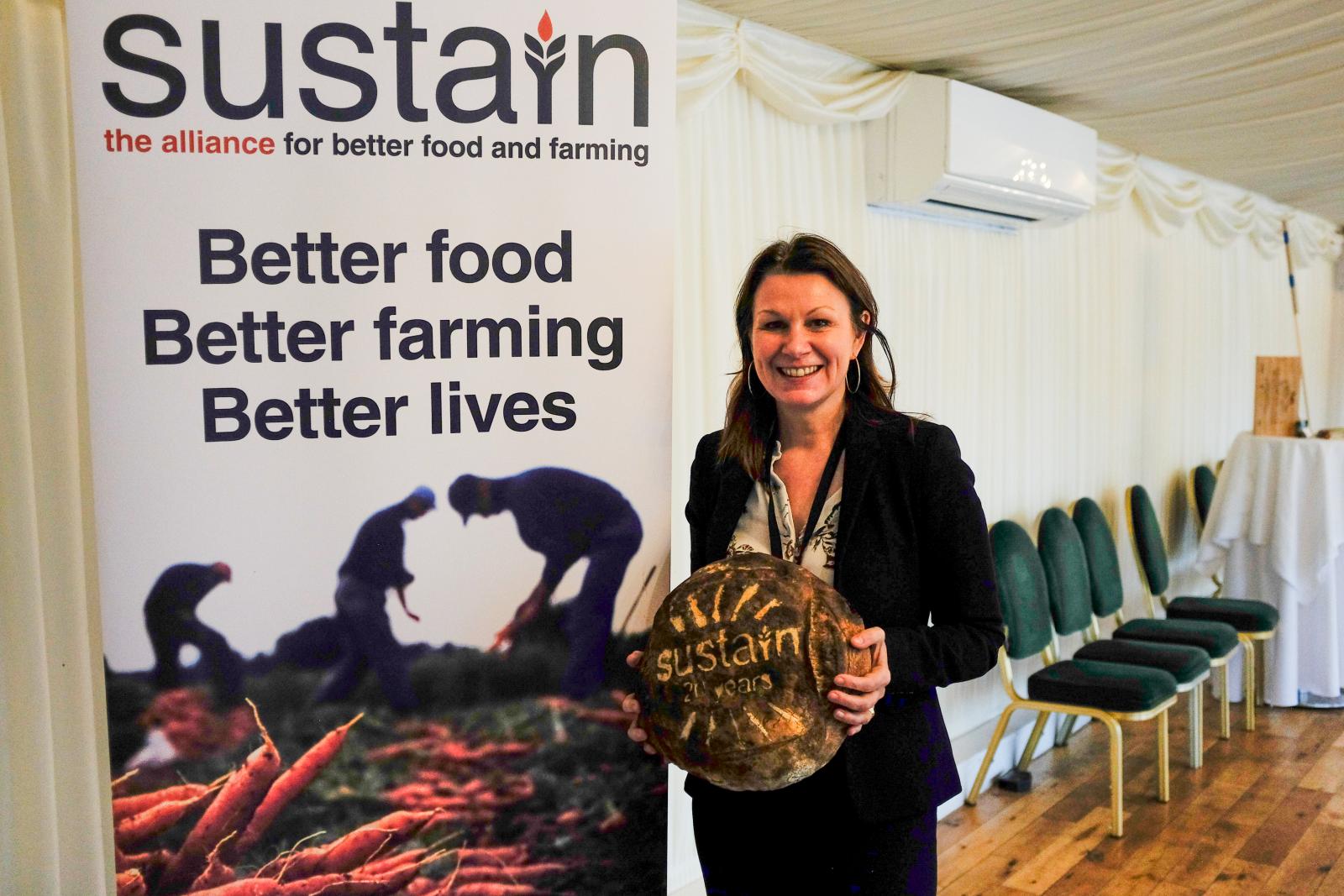 Kerry McCarthy MP (reception sponsor and member of the Environment and Rural Affairs Committee and Environmental Audit Committee, as well as chairing the All Pary Parliamentary Group on Agro-ecology) complimented Sustain on the alliance's achievements over the past two decades; particularly singling out our very hard working, multi-tasking, sustainable farming campaign co-ordinator Vicki Hird. Sue Hayman MP (Shadow Environment Secretary, pictured above) later picked up the theme, complimenting Vicki on her policy work and tenacity.
Neil Parish MP (Chair of the EFRA Committee) drew together all the links in food policy and the need to work together on high standards.
Finally, Tom Watson (Deputy Leader of the Labour Party, pictured below) told the attendees about his personal journey to reverse his type 2 diabetes, improving his diet and learning more about food, farming and health. He finished up by saying that, "Finding Sustain has been the joy of his life".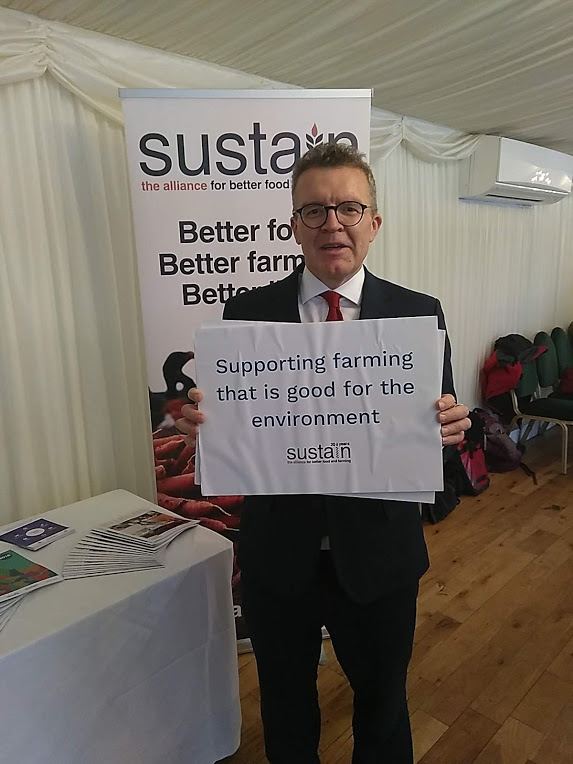 Sustain chief executive Kath Dalmeny used four food items to illustrate four main topics of interest for Sustain in the food strategy.
Apple: Representing safe, healthy, affordable food for everyone
Fish: Food production that restores nature and supports decent livelihoods
Bread: Food that creates good jobs and helps local economies to thrive
Carrot (with its greenery): Representing climate change and the environmental emergency
She said: "The apple represents safe, healthy, affordable food for everyone, regardless of where people live or how much they earn. Obesity is estimated to cost the UK economy £27bn; and tens of thousands of people in the UK have insufficient income to eat well. Sustain's aim is to make fresh, nutritious food become the norm: accessible, affordable well promoted and attractive; with foods that contribute to disease becoming less accessible, less affordable and less attractive."
Turning to the fish, she said: "This fish, as well as the apple, represents sustainable production of the ingredients of a healthy and sustainable diet. We need our primary food production, on land and at sea to restore nature and support decent livelihoods in farming and fishing. Some first steps towards this are in the 'public money for public goods' approach at the heart of the new Agriculture Bill, which our alliance and many others have supported. Yet British fisheries are missing out on at least £62m in such contracts because they cannot prove their sustainability credentials. Public policy could help put more of that £62m into the pockets of coastal communities with better investment in fisheries data and stock recovery plans. Such investment could come from the UK Shared Prosperity Fund. The National Food Strategy could help."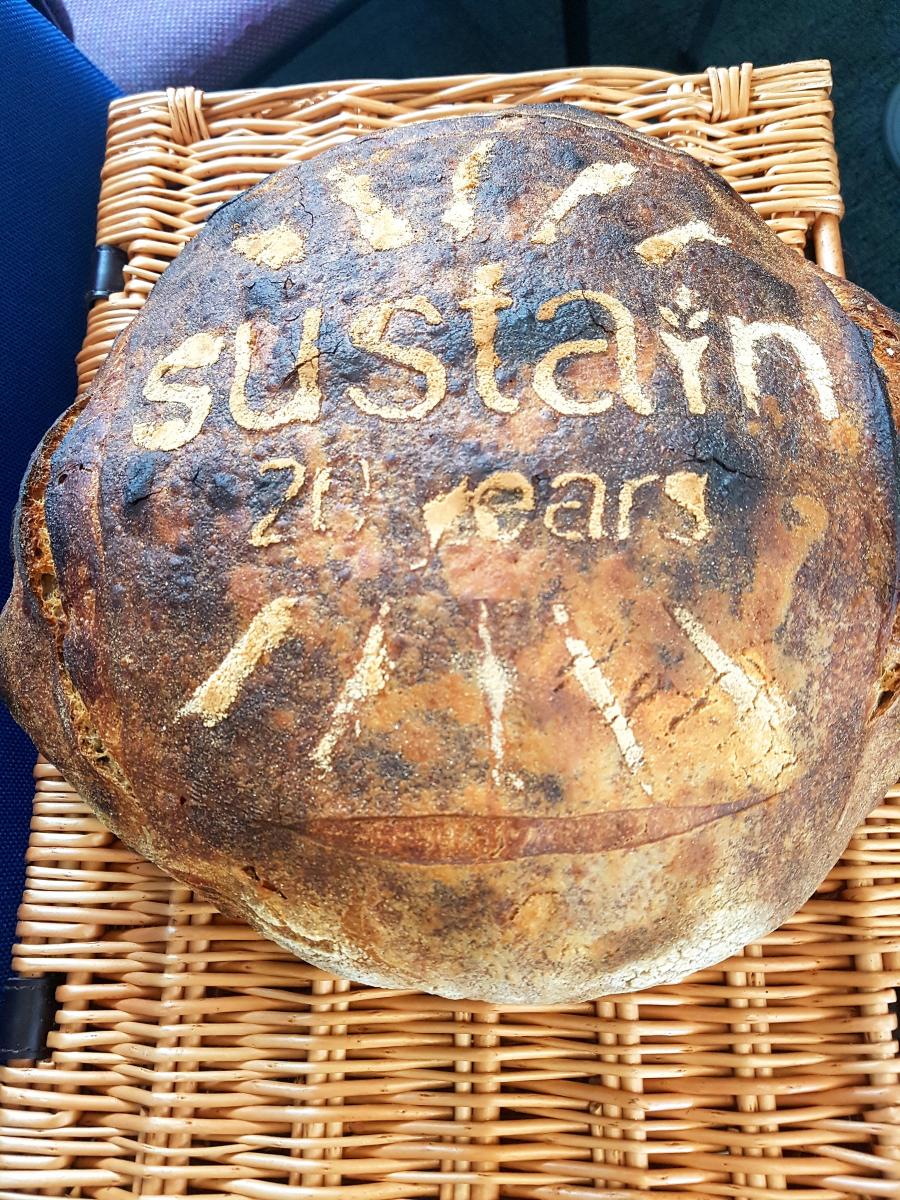 Holding the loaf of bread, Kath continued: "This loaf of bread represents a thriving food economy. We have a lot to be proud of in British food – high standards, a great story to tell about the links between food, environment, tradition, decent jobs and livelihoods, and landscape. There is a growing market for organic and agro-ecologically produced food; we witness great enthusiasm especially among younger people to be involved in food and values-based enterprise; and artisan and geographically identified foods are worth £1bn per year to the UK economy. Yet the infrastructure that kept skills, facilities and diverse types of farming in the market have declined. We need an investment plan for local food infrastructure such as abattoirs, processing facilities, markets, local food hubs, promotion and business support."
Finally, carrot in hand, Kath told the assembled MPs and peers: "Any food policy decisions that we make must now be held up to the lens of net zero greenhouse gas emissions. Back in 1999, when the Sustain alliance was founded, our atmosphere contained 370 ppm carbon; this year in 2019 we are likely to top 410 ppm. Sustain was founded before there was a serious appreciation that what we farm, eat and dispose of contributes between 20 and 30 per cent of all anthropogenic greenhouse gas emissions. There is a growing consensus that the main ways in which we can reduce food's contribution is by: Radically reducing food waste, eating less and better meat and dairy, and more plants. We need to support climate-friendly, agro-ecological farming methods and make better decisions about land use. We also need to restore the local food infrastructure that keeps diverse farmers and local supply chains alive. It's no good rearing pasture-fed cows if you can't get them cost-effectively to market."
Read Sustain's response to launch of the National Food Strategy: https://www.sustainweb.org/news/jun19_sustain_welcomes_national_food_strategy/

Find out more about the National Food Strategy at: https://www.nationalfoodstrategy.org/
---
11/07/2019
Sustain
SHARE
---
Sustain: Sustain The alliance for better food and farming advocates food and agriculture policies and practices that enhance the health and welfare of people and animals, improve the working and living environment, enrich society and culture and promote equity.