London's urban food community 'Get Connected'
On Monday 18 July 2016, dozens of London's small-scale food growers, producers, retailers and restaurateurs gathered on a garden rooftop in Shoreditch to make plans for the upcoming Urban Food Fortnight and taste delicious foods created in the city.
The event 'Get Connected' was organised by London Food Link as a run-up to the Urban Food Fortnight taking place in September.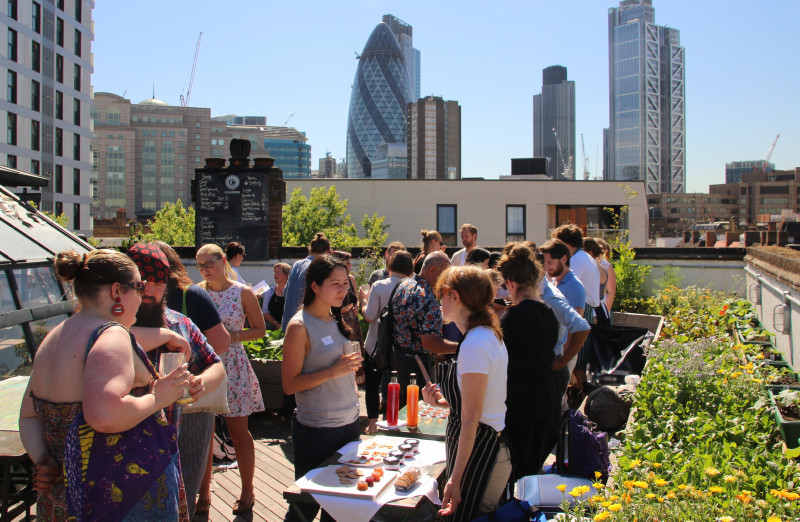 Under a clear blue sky, attendees mingled on the garden rooftop of the Culpeper pub and restaurant and tasted London's finest produce, including gin from Sipsmith, bread from Celtic Bakers and produce from the Winn Project. They were given some great introductions to the fortnight by Adrienne Attorp from Cultivate London, Laura Hopper from Plan Zheroes and Yeshna Mistry from the Sustainable Restaurants Association.
'Get Connected' was primarily a means to get different parts of London's food chain connected – from growers, to restauranteurs to London foodies. Urban Food Fortnight 2016 runs from 9-25 September and promises equally delicious foods and conversations.
To find details of how to get involved, visit urbanfoodfortnight.org
Special thanks goes to The Culpeper, and all the producers and speakers who made the event possible.
See more Get Connected photos.
Support our charity
Donate to enhance the health and welfare of people, animals and the planet.