Child-friendly characters deliver junk food marketing message to advertising regulator
This morning a collection of brand and licensed characters (or maybe us in costume) held a 'victory parade' outside the offices of the Committee of Advertising Practice. 9 child-friendly characters - including Tony the Tiger, the Nesquik bunny, Olaf and Elsa from Frozen, Peppa Pig and a Storm Trooper - came to hand in a letter to the advertising regulator thanking it for the lax rules which have allowed them to keep their jobs and to continue earning millions marketing junk food to children.
Take a look at how the brand and licensed characters got on outside the Committee of Advertising Practice's (CAP) offices. See our Facebook page for more photos.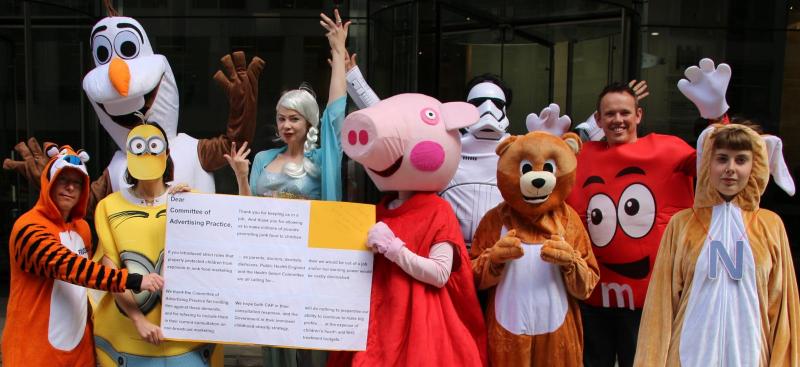 The letter says:
"Dear Committee of Advertising Practice,

Thank you for keeping us in a job. And thank you for allowing us to make millions of pounds promoting junk food to children. If you introduced strict rules that properly protected children from exposure to junk food marketing - as parents, doctors, dentists, dieticians, Public Health England and the Health Select Committee are all calling for - then we would be out of a job and/or our earning power would be vastly diminished. We thank the Committee of Advertising Practice for holding firm against these demands, and for refusing to include them in their current public consultation on the rules governing the non-broadcast marketing of products high in fat, sugar or salt (HFSS) to children. We hope both CAP in their consultation response and the Government in their imminent childhood obesity strategy do nothing to jeopardise our ability to continue to make big profits at the expense of children's health and NHS treatment budgets."
On the reverse of the letter was our press release, which explains more about why the characters were there, and that the Children's Food Campaign is calling for an end to child-friendly brand and licensed characters being used to promote HFSS food and drink, as well as the introduction of other measures to minimise exposure of children to junk food advertising across all forms of media. We handed the letter into a representative from CAP.
Read a summary of Children's Food Campaign's response to the current CAP consultation on non-broadcast marketing of products high in fat, salt or sugar to children.
Take Action: to submit your own response to the advertising regulator, simply email it to childrensfood@cap.org.uk
---
12/07/2016
Children's Food Campaign
SHARE
---
Children's Food Campaign: Better food and food teaching for children in schools, and protection of children from junk food marketing are the aims of Sustain's high-profile Children's Food Campaign. We also want clear food labelling that can be understood by everyone, including children.