New Trussell Trust report on Disability, Health, and Hunger.
Trussell Trust have released a report today that publishes the findings of their research into disability and health conditions at foodbanks in the UK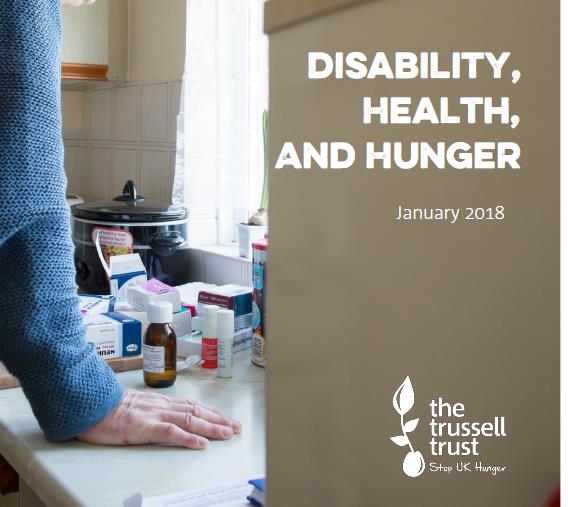 New report by the Trussell Trust builds on the shocking fact that "people dealing with a disability or health condition are far more likely to receive emergency food from a foodbank".
Managers and volunteers at Trussell Trust foodbanks have reported issues that have arisen from the benefits system, especially with receiving Personal Independence Payments (PIP's) and the lengthy period of the appeals processes that leave individuals for significant lengths of time without a source of income. They are also particulary concerned about the mental ill-health of food bank users, over a quarter of respondents noticed a significant increase in the number of people referred over the past twelve months who are experiencing mental ill-health.
Food banks around the UK are responding to a growing demand for emergency food aid. However, as Trussell Trust outlines, it is important to emphasise that food banks are a short term response to an emergency situation, and should not be seen as a replacement for long-term sustained and targeted support.

The key recommendations from the report are:
Claiming PIP and ESA:
More support, advice, and advisors, to mentor people through the claims and appeals process.
Making the application process for ESA and PIP more accessible by changing terminology, and offering simple guidelines to explain what the new benefit involves.
More access for people with disabilities and health conditions to speak to a real person about their claim - if people are vulnerable they need to see a person rather than a computer
More local support to include people who are less digitally literate.
Including a section about mental health on the U.C.50 assessment form and review work allowances.
Increased opportunity for ESA and PIP assessments to be available locally.
Basic rate of income maintained between WCA decision and appeal tribunal.
Review and uplift ESA and PIP payment rates so that people with additional barriers/needs are not trying to subsist on the same income as people on JSA.
Review the benefits freeze
Support and Advice:
Clearer and simpler DWP guidance notes online for agencies and charities for reference.
Combining health advice with welfare advice, with at least one mental health advisor for each Jobcentre and PIP assessment staff trained in identifying mental health conditions.
Increase access to the appeals process e.g. funding for welfare advisers to sit with people during court proceedings who would not otherwise go through with it.
A sustainable livelihoods approach, where people are given holistic, full-journey support.
Retraining or rehabilitation for people who worked in manual labour or physically demanding jobs before having an accident or becoming ill.
Free access to counselling for low-medium level mental health.

You can read the full report on the Trussell Trust website.
Support our work
Your donation will help communities identify ways to alleviate food poverty and increase access to healthy food.