As the Fringe Farming project starts to reflect on its two years, a room full of peri-urban market gardeners and supporters gathered at the Oxford Real Farming Conference. New connections were made and inspiring ideas were thrown, which gave optimism for agroecological local food infrastructure to link the rural and the urban for many years to come.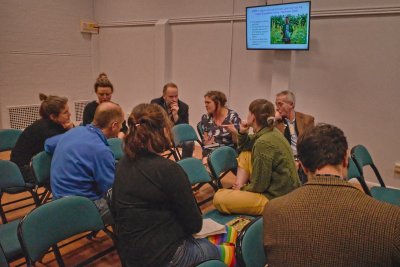 Fringe Farming breakout group at the ORFC. Credit: Aryo Feldman
The Fringe Farming project aims to grow the movement for agroecological food production at city peripheries. In its session at the Oxford Real Farming Conference, links were highlighted between the wonderful work happening on the ground to policy development.
The Fringe Farming lead, Aryo Feldman, reflected on two years of the project, making special mention of how the project was partner led at the local level. The project's Glasgow partner, Abi Mordin (wearing her Glasgow Community Food Network hat), illustrated this by sharing how local food infrastructure is being developed in and around the city in policy and practice, as well as the lessons learned in advocating for the importance of local markets. Then there was an opportunity to showcase what's happening - creating a map full of post-its of peri-urban food projects participants knew about and others wanting peri-urban food projects and covering the whole UK. Truly exciting to see so much going on.
The session also heavily borrowed the formats and issues from the project's Peri-Urban Practitioners Forum (PUPF), which was led by the Forums' coordinator, Rebecca Laughton from the Landworkers' Alliance. This meant that a lot of interaction was fostered to allow new connections to be made, particularly between those in the same geographic region.
This was emphasised in the breakout discussions in which people were grouped by whether they were based in the North (including Scotland), Southwest or Southeast. Growers and supporters shared their experiences to learn from one another to help make fringe farming work where they are.
What do we want from the Peri-Urban Practitioners Forum in the year to come?
Across all groups, there was broad support for the PUPF's objective of peer-peer knowledge sharing and learning. The North stressed the importance of education and training on economics and financial viability, including how to set up mixed-use farms and enterprise stacking. The Southwest requested that Fringe Farming flags up funding opportunities as they arise, as growers are often not aware of these. They also made special mention of new entrants to farming being able to access knowledge and land. The Southeast likewise flagged up poor access to land (as well as to funding) being a huge barrier that has the potential to be partly addressed by knowledge sharing, particularly in terms of learning from examples of successful farms that have come before them.
What opportunities are there over the next year to raise the profile of peri-urban horticulture?
There was a general feeling that it was possible to raise the profile of fringe farming by engaging with public awareness. The North discussed encouraging opening up farms to the public e.g. during demonstration days and community markets that ultimately connect people to their food. The Southwest growers wanted better peer to peer connection, either through monthly farm visits and potlucks or through a WhatsApp Group. They also wondered about the possibilities of selling their produce through conventional markets. The Southeast picked up on the importance of media (popular and social) for creating more visibility.
How can we collaborate through Peri-Urban Practitioners Forum to increase capacity/amplify our message?
Everyone in the room seemed to be on the same page when it came to fostering more cooperation for collective empowerment. The North suggested collaborating with academics to research and review, for example, crop yields, soil health, carbon and organic matter, and the social benefits of fringe farms/farming. The Southwest talked about specific formats, i.e. WhatsApp and a Q&A forum. The Southeast suggested that it would be good to also involve people who were not of the same ilk or were unfamiliar with the activities and benefits of fringe farming. These would be mainly urban folk who are not used to (talking about) farming, farms or rural activities. Bridging that gap could be a way to accelerate the movement for peri-urban (and urban) agroecology.
"Peri-urban farming seems to me to be a no-brainer. It keeps the food miles of fresh fruit & veg production low, to more easily reach larger markets, and it means that the least diverse sector – farming – is in a better position to attract new hands and voices from centres of diversity." - Aryo Feldman, Sustain's Fringe Farming Officer
Coming out of the session, it was obvious that there was a big appetite for people to organise themselves around developing better food access around towns and cities. At the same time, everyone made it clear that for this to properly happen, broad support from diverse groups needs to be in place.
Being tagged as the biggest conference in the world on agroecology, the Oxford Real Farming Conference could appear to be a universe of its own. The question of how to link to both the wider farming community and civil society is thus pertinent if we want the UK's food system to transition to one that is healthy and fair for everyone.
Support our charity
Donate to enhance the health and welfare of people, animals and the planet.