Veg Patch expands to primary schools in Middlesbrough
The first 'Veg Patch' fruit and veg stall using locally grown and surplus vegetables was set up at the Teesside University campus early in 2019 by Veg Cities Middlesbrough, with support from Middlesbrough Environment City. The project has now expanded to two primary schools, saving over one tonne of fruit and vegetables from landfill and generating 3,001 meals.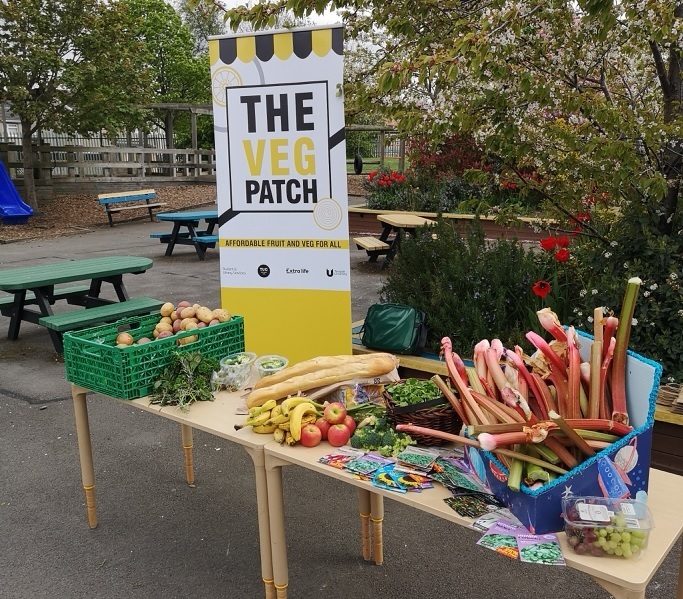 The new Veg Patch stalls are managed by pupil-led eco squads that have been set up in the schools who are putting the environmental issues of food waste and locally grown food at the forefront of their activities. The stalls are run every Friday with support from Veg Cities Middlesbrough to ensure that families and the school community have access to fresh fruit and veg over the weekend. The produce varies from week to week and is currently supplied by two local Co-Op stores and local food growing sites. Incredible Edible Middlesbrough has been a valuable partner in the project and has showcased plant-based eating and locally grown veg. As the project grows, more supermarkets and distributors have pledged to come on board including QFS, a large local fruit and vegetable distributor who will start donating their surplus fruit and vegetables.
One of the most important learnings of the last quarter that has resulted in nearly zero surplus from the stalls is matching the fruit and veg offer to the type of community using the stalls. In one primary school where 43 different languages are spoken, the most popular produce were the locally grown squashes, beets and greens. At the other school, where the vast majority of pupils are white English, bread and potatoes were a useful addition to popular vegetables such as carrots and onions. The stalls at Middlesbrough Institute of Modern Art and Teesside University are flexible and any type of fruit and vegetables are taken.
During the school holidays fresh fruit and vegetables from the Veg Patch Holiday Kitchen will be part of The Feast of Fun, a partnership of local churches, community groups and schools that offer holiday activities with healthy food to over 1,500 children, young people and families across Middlesbrough and Redcar & Cleveland. Middlesbrough Institute of Modern Art are running the University stall, with a view for their own permanent stall to run on a Thursday.
The Veg Patch has been the greatest success of Veg Cities Middlesbrough campaign so far. It is a fantastic new initiative in the town, increasing access to fruit and vegetables, supporting families in need and increasing people's awareness of food waste and local food growing. The popularity of the stalls and the identified need is resulting in requests for more stalls to be set up and pop-up stalls are planned across the town. However, for the long term sustainability and to develop the relationships to ensure it can continue after initial support is reduced, Middlesbrough Environment City has plans for a slow and steady growth in the number of stalls. The partnership between Middlesbrough Environment City, Incredible Edible Middlesbrough, Barefoot Kitchen CIC and Teesside University will ensure The Veg Patch, including the Veg Patch Holiday Kitchen, will continue beyond the Sustainable Food Cities campaign funding.
Sustain are encouraging more areas to launch Veg Cities campaigns, and get local businesses and organisations making veg pledges. Veg Cities is currently the feature campaign of Sustainable Food Cities, and is run in partnership with Peas Please.
---
06/08/2019
Veg Cities
SHARE
---
Veg Cities: Veg Cities is a feature campaign of the Sustainable Food Cities led by food and farming charity Sustain in partnership with the wider Peas Please initiative led by the Food Foundation, Nourish Scotland, Food Cardiff and WWF.