London's Public Sector Race to Meet Olympic Food Standards
On 15th March 2012, the cream of London's public sector gathered to receive the prestigious Good Food on the Public Plate Awards for serving more healthy and sustainable food to London's schoolchildren, students, and hospital patients. The awards were presented at City Hall by Rosie Boycott, Chair of the London Food Board which advises Mayor Boris Johnson on food issues in the Capital.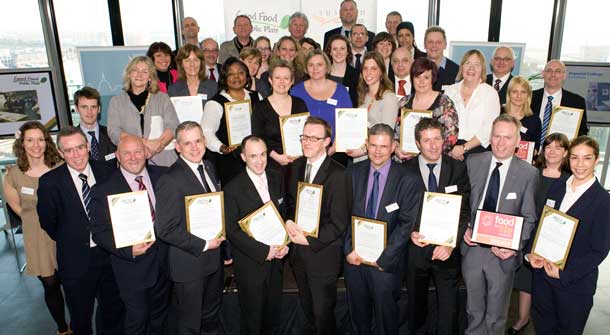 The award ceremony marked the completion of the three-year Good Food on the Public Plate project that has contributed to implementation of the London Food Strategy and promoted a positive legacy from the London 2012 Food Vision – the healthy and sustainable food standards for the London 2012 Olympic and Paralympic Games. The project has successfully increased the amount of meat from British farms and traceable systems, increased the use of meat and eggs from cage-free chickens, and promoted uptake of sustainable fish, to a standard that has also been adopted for catering in national government departments and the armed forces. The project brought London boroughs and universities together to award cost effective food supply contracts meeting sustainability criteria, as well as providing support to other London boroughs to help them secure contracts for good food at lower prices.
Louise Maxwell Symington, Co-ordinator of the Good Food on the Public Plate project, run by the charity Sustain and supported by the Mayor of London, commented, "Working with Good Food on the Public Plate, our award-winning public institutions have proved that it is possible and cost-effective to serve good food to London's schoolchildren, hospital patients and students, in a way that also benefits British farmers, farm animals and the environment. We encourage all of London's public sector institutions to follow their inspiring lead."
The full list of organisations winning Good Food on the Public Plate 2012 awards is:
Alliance in Partnership
Birbeck University
Brunel University
City University
Epsom and St Hellier NHS Trust
Goldsmiths College
Imperial College
Institute of Education
King's College
Kingston University
London Borough of Havering
London Borough of Enfield
London Borough of Islington
London Borough of Sutton
London Borough of Tower Hamlets

London Borough of Kingston
London Borough of Richmond
Laurel Lane Primary School
London Fire Brigade
Queen Mary University
Royal Marsden Hospital
Royal College of Music
Royal Vetinary College
School of African and Oriental Studies
School of Pharmacy
University College London
University College London Hospital (Time Out restaurant)
University of East London
University of Greenwich
University of Westminster (Chartwells)
Share
Get updates
Good Food on the Public Plate: Good Food on the Public Plate (GFPP) provided a wide range of assistance to a diverse cross-section of London's public sector organisations including local authorities, hospitals, universities and care homes, to enable them to use more sustainable food in their catering.
Menu
Support our charity
Donate to enhance the health and welfare of people, animals and the planet.