For suppliers and buyers of good food
"We'd love to see more caterers using the best of fresh, British and seasonal produce, as well as food grown to high ethical and environmental standards. London 2012 is showing it can be done. Now it's up to all of us to help producers of good food make better connections with caterers and events organisers."
Helen Evans, Association of London Markets and member of the London Food Board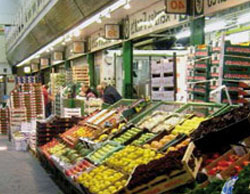 The London 2012 Games organisers have commited to serve British and seasonal food, healthy options, animal products from higher welfare systems, sustainable fish, and Fairtrade products, and to reduce food and packaging waste. They are also aspiring to use food from environmentally friendly farming methods, such as organic. Through the Food Legacy programme, we will promote this approach to the wider catering, hospitality and events sectors, working across the UK. We aim to create a myriad of opportunities for suppliers of good food to benefit from the inspiration of the London 2012 Food Vision.
Here are some things that suppliers of good food can do:
If you are a grower or manufacturer of good food, the best way to benefit from Food Legacy programme activities is to register with one of the local and sustainable food directories.
Share
Get updates
Food Legacy: The campaign, launched October 2011, is inspired by the London 2012 Food Vision adopted by the organisers of the London 2012 Olympic and Paralympic Games. Food Legacy asks caterers, restaurants, event organisers and hospitality organisations to commit publicly to taking steps to improve the healthiness, ethics and sustainability of the food they serve.
Menu
Support our charity
Donate to enhance the health and welfare of people, animals and the planet.