Celebrating the silver linings amongst the storm cloud of 2020
2020 has been a dark stormy cloud for so many, especially for food poverty alliances and organisations who have had to ride the unexpectedly high food poverty waves rippling across the UK. As the saying goes though, every cloud has a silver lining so with the end of 2020 upon us, we reflect on some of the good news droplets from around the UK.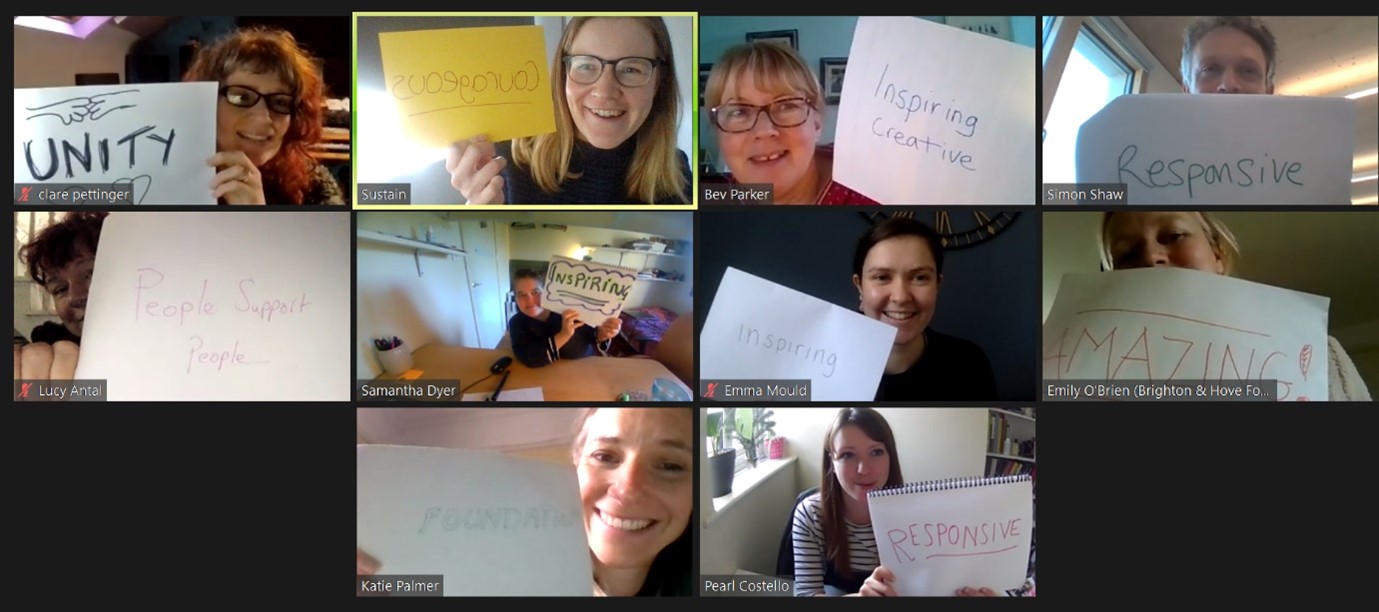 Food Power peer mentors sharing their words and phrases to describe the work of the Food Power network during 2020.
2020 will be a year to remember. The fateful year a global pandemic brought the entire planet to a standstill. The year supermarket shelves were stripped bare by panicked food shoppers. The year food poverty sky rocketed across the UK. The year the country had to fight for school children to eat during the holidays.
It could also be remembered as the year Marcus Rashford put child food poverty high up the political and public agenda. The year businesses across the country stepped in to feed children and families in need during school holidays. The year 1 million people signed a petition calling for investment in children's health - and government (partially) listened.
Recognising the national wins I asked our networks to share any silver linings they had from their local work. The positive news soon came flooding in and some clear themes appeared.
More flexible funding
Food poverty alliances highlighted the increased funding available to support their work. Be it through new resources from local authorities, charities, faith groups, our Food Power partner Unicef UK or others, it all helped to supply the increasing demand for food support. Importantly in some cases, this funding was more flexible too, with the Independent Food Aid Network finding that donors were happier for their funds to be used on 'cash first approaches', when this has been more restricted in the past. The Plymouth Food Equality Project has been able to increase capacity, recruiting two new coordinators to help manage the work, thanks to additional funding. Though ultimately people should be able to afford their own food, in the current system this funding has at least allowed a more flexible, dignified approach to food support for many and increased capacity at a critical time.
New alliances, partnerships and projects
As a result of the emergency food response, new partnerships and alliances have formed. In Knowsley, Liverpool, a new food poverty alliance has been established and mapping is now underway to better understand the food network in the area. Cambridge Food Poverty Alliance co-led the city council's food response and is now advising the wider county council and district councils on their own food responses. Food Poverty Action Aberdeen credited the strong partnerships they'd formed with the city council and others for the success of their coordinated emergency response. New projects have also emerged. In Cardiff, after involvement in Food Cardiff's online community food retail workshops, the Splo-down project aims to make 'good food more affordable and accessible'. Worthing Vegan Food Bank was set up to provide allergy appropriate food for those in need. Alliances have also been flexible in redesigning their projects after original plans were scuppered by Covid-19 restrictions. For example, the Belfast Food Network has redesigned their Healthy Start project to focus on supporting local retailers to register and advertise the voucher scheme to increase uptake across the city.
Long-term thinking
Alliances and, most importantly, local authorities are recognising the need to integrate emergency food provision within the wider food system. In Shropshire, the pandemic has provided a platform to develop a county wide Sustainable Food Places approach which would not have been possible otherwise. In Cambridge, discussions are now afoot about how to transition from an emergency food model to a more sustainable food model or system. Liverpool Council has also established a task force to develop a good food plan for Liverpool to eradicate food insecurity over the next 10 years. Alliances have been calling out for long-term thinking of this kind for years, so it's great to see the need to move 'beyond the food bank' being recognised.
A huge amount of respect
Last, but certainly not least, is the huge amount of respect for those going the extra mile to provide food for those in need throughout this devastating year. Food Power peer mentors have been deeply humbled by the compassion and quick responses of the organisations on the ground who have stepped up and delivered more than ever before. As have the public who have supported national campaigns, donated to food projects and supported crowdfunders to increase provision for those in need. This adaptation, flexibility and compassion shows the resilience of our communities and the growing support for ending food poverty. If that's not worth celebrating in dark times then what is.
With the year coming to a close, it's easy to focus on the negatives. Given the impact these have had on so many, I'm not suggesting they should be forgotten or dismissed, just that we also acknowledge the wins. There is a lot to celebrate, both nationally and locally, and it is important we do so or we risk burnout and missing opportunities to build on these. So, in the spirit of 2020, please join me for a virtual applause to celebrate the silver linings of 2020 and most importantly, the people who made them all possible through their determination, hard work and resilience. Thank you so much for all you've done this year.

Read more blogs in our Winter Resilience blog series here.
Sheep farmer. Credit: Cottonbro | Pexels
Published 16 Dec 2020
Food Power: Food Power is an exciting new programme working with local communities across the UK to strengthen their ability to reduce food poverty.
Cecily joined Sustain in September 2020 as the Communications and Network Coordinator for the Food Power project and the Food Learning Forum (on maternity cover).
Cecily Spelling
Communications and Events Coordinator Food Power
Support our work
Your donation will help communities identify ways to alleviate food poverty.