Beet climate change by Switching Up Your Lunch!
On the 13th June, the fourth annual #SwitchUpYourLunch pledge is returning to Oxfordshire. Businesses and organisations all over the county will pledge to switch their lunch to vegetarian and vegan meals for the planet. Could you run a #SwitchUpYourLunch campaign in your area too?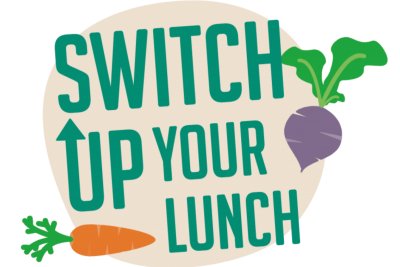 Switch Up Your Lunch. Credit: Good Food Oxford
For the fourth year in a row, Oxfordshire Greentech and Good Food Oxfordshire are inviting businesses and organisations all over Oxfordshire to join in and swap their meat at lunchtime for tasty vegetarian or vegan options. Last year 94 organisations including universities, schools, businesses and community groups joined the #SwitchUpYourLunch campaign to serve over 1,400 additional vegetarian and vegan lunches in Oxfordshire. The social media campaign has grown from reaching 50,000 in 2020 to over 70,000 in 2022, and this year we can make it even bigger – with your support.
The #SwitchUpYourLunch campaign aims to raise awareness of the impacts of eating too much meat and not enough veg. In the UK, 77% of adults and 89% of children eat less than the recommended 5-a-day. Research suggests that increasing the amount of fruit and vegetables you eat can positively impact both your physical and mental health.
Increasing the amount of vegetables we eat can not only increase our health and lifespan, but by eating less and better meat, we can help tackle climate change. Beef, lamb and other animal products are some of the foods with the biggest carbon footprints. By reducing meat consumption in Oxfordshire by 75% we could sequester as much as 20% of our current annual emissions just through land use changes. Reducing the amount of animal products would also allow catering providers to serve 'better' animal products more often, including free range eggs, organic milk and locally-sourced pasture fed meat. These are a great way to support our local economy and our farmers producing to higher animal welfare standards.
Switch Up Your Lunch calls on everyone in Oxfordshire to:
Serve meat, eggs and dairy in smaller quantities and more veg
Choose animal products that are sustainably produced by local farmers
Choose plant-based options more often
If you are interested in joining or running a #SwitchUpYourLunch event outside of Oxfordshire, the Oxfordshire team can help support your campaign with free advice, resources and social media packages. Find out more on www.switchupyourlunch.org.uk or get in touch with the Oxfordshire team on switchupyourlunch [at] gfo.org.uk
More information about the impact of meat in our diets can be found at the Meat The Future exhibition at the Museum of Natural History in Oxford, which is on until 8th May 2022.
Switch Up Your Lunch is a joint campaign by Oxfordshire Greentech and Good Food Oxfordshire, supported by Veg Cities, Low Carbon Hub, Women in Sustainability, Oxfordshire County Council.
Molly is currently working with Good Food Oxfordshire as a Communications Volunteer to help organise Switch Up Your Lunch 2022. Molly developed an interest in food sustainability while working in Michelin starred and fine dining restaurants around the world, realising how wasteful the food system was. She is now completing an MSc in Food Sustainability and Natural Resources at the Centre for Alternative Technology
Molly Todd
Good Food Oxfordshire
Support our charity
Your donation will help communities across the UK to increase the availability and consumption of vegetables.