iPhone app
FREE download on the App Store at: http://itunes.apple.com/app/sustainable-fish-city/id550407961?mt=8
The new Sustainable Fish City iPhone app provides fish information, advice on top ten swaps for fish most under pressure, simple actions you can take to send your message to companies that buy and serve fish - as well as free sustainable fish recipes from top chefs. The app also comes with a special message from Sustainable Fish City ambassador Raymond Blanc, to thank you for taking part.
For individuals...
As an individual, feel free to download the iPhone app, following the link above.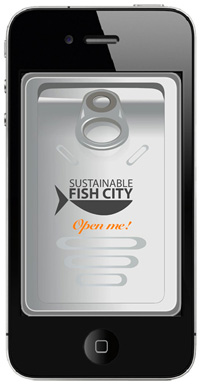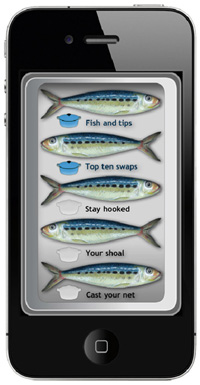 For organisations and institutions...
Download a pdf on the Sustainable Fish City iPhone app to find out more about how we can work with you and your organisation.
If you work for an organisation (for example, as a caterer, sustainability officer or CSR manager in a company, educational institution, charity or public institution), then read on! We would be pleased to talk to you about tailoring the iPhone app for promotion to your staff, students or clients. Please get in touch, email: fish@sustainweb.org
The app can be individually tailored for participating organisations. We can adapt several of the app's pages ~ accessible only by unique password by the people you send it to ~ to highlight the good work your organisation has done to buy and promote sustainable fish. We can also track information entered by your own community of app users, to report back to you (if you wish), and to send a sustainable fish message to the places where your community of staff, students or clients eat at lunchtime. Together, we can build the momentum towards a sustainable fish future!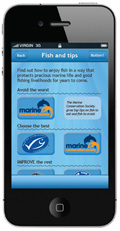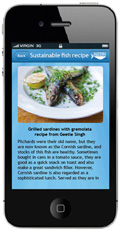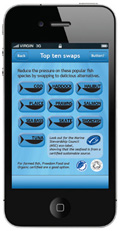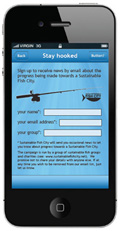 We also have other materials you might like to use, such as posters for your canteen, and sustainable fish advice for shoppers that could be published on your intranet. And most of all, we'd like to support you in taking the Sustainable Fish City pledge! Please get in touch to discuss how to get involved.
Rosie Boycott, London Food Board

Taking a sustainable approach to fish is critical to the food security of our city. It is shocking to think that within our lifetimes, we could lose some of our favourite species from the seas forever.