News
Marine Conservation Society asks chefs to pledge to exclude endangered fish
08/09/2011

The Marine Conservation Society (MCS) is urging restaurateurs at the Abergavenny Food Festival to serve sustainable fish on their menus with the hope it will catch on countrywide.
As the UK's leading charity promoting sustainable seafood, MCS is issuing 'Seafood Pledge Cards' to eateries in Wales and the Marches, that don't sell fish from the charity's 'Fish to Avoid' list.
The pledge cards will be given to customers with their bill, highlighting the restaurant's commitment to sourcing seafood responsibly in line with MCS advice. The idea is that customers will want to return to restaurants serving sustainable seafood to enjoy a wide variety of tastes and ensure the chef is sticking to his pledge!
"We want to remove unsustainable fish from sale in all UK restaurants and promote lesser-known, under-used species such as dab, pouting and pollack as alternatives to relieve the pressure on overfished ones," says MCS's Fisheries Officer Bernadette Clarke. "Abergavenny Food Festival is an excellent platform to launch this campaign as it's full of food lovers who care about where and how their fish is sourced. This area of Wales also boasts an extremely high number of influential chefs who are keen to embrace sustainability and are leading the way in culinary trends such as sourcing local, in season quality food."
So far there has been an excellent response to the pilot scheme from restaurants in Wales and the borders, who have agreed to sign up to the pledge card initiative.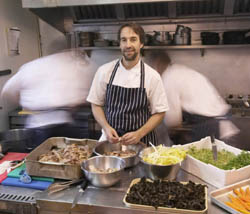 One enthusiast is Stephen Terry (pictured), owner and chef of the internationally acclaimed Hardwick Inn near Abergavenny. "MCS is a fantastic organisation working hard to conserve our marine life for future generations. Their pledge card scheme has a two-fold benefit in educating and alerting chefs to a situation that is not generally known or thought of, as well as raising awareness amongst customers. It is essential we raise awareness now or we will be eating certain species to extinction."
AA Restaurant of the Year, The Foxhunter Inn at Nantyderry has also signed up to the pledge card. Its owner and chef is Matt Tebbutt: "To follow the guidelines set out by MCS should be a requirement for all good restaurants. It's very clear which fish we should be avoiding and there's plenty of choice of fish which are not currently on the endangered list. I am very pleased to support such an important pilot scheme."
Kim Waters, Chief Executive of the Abergavenny Food Festival, says: "The Festival continues to be committed to sustainable food production. We are delighted to showcase the Marine Conservation Society's invaluable campaign at this year's festival, and to help raise awareness of the pressures that our fragile seas are under."

The pilot will run from 17th September for 12 months. With interest already growing in the pledge card, MCS hopes to roll out the campaign in association with similar events countrywide.

Notes to editors
The Marine Conservation Society (MCS) is the UK charity dedicated to the protection of our seas, shores and wildlife. MCS campaigns for clean seas and beaches, sustainable fisheries, and protection of marine life. Through education, community involvement and collaboration, MCS raises awareness of the many threats that face our seas and promotes individual, industry and government action to protect the marine environment.
MCS provides information and guidance on many aspects of marine conservation and produces the annual Good Beach Guide (www.goodbeachguide.co.uk), the Good Fish Guide and www.fishonline.org on sustainable seafood, as well as promoting public participation in volunteer projects such as MCS Beachwatch Big Weekend and Basking Shark Watch.www.mcsuk.org
The Abergavenny Food Festival (17th/18th September) is in its 13th year and aims to celebrate craft in food-making - be it on the farm, in the factory or in the kitchen.
Allegra McEvedy MBE, chef, writer and presenter

"To stand by and do nothing, say nothing as we slowly drain the oceans of their livestock is to make one complicit, and that's just not a position with which I was comfortable."