News
Number 10 sustainable fish standards due any day now!
20/05/2011
Government response to campaign letter, 20 May, 2011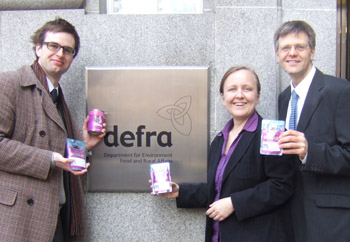 The government has said that sustainable fish standards are due for Number 10 and government departments... any day now!
A letter dated 10 May 2011 (received 20 May 2011), sent on behalf of Number 10, and coming from the food and farming ministry Defra (with responsibility for food buying standards), said: "We are considering positively the comments made by Sustain, both in writing and during recent meetings, and we are looking to ensure that the final Government Buying Standard for fish delivers real benefits and sets an example for the wider public sector to follow. The final set of standards will be published as soon as they have been agreed by all Departments." [read Defra's letter here][ [
The picture above shows Sustain campaigners Alex Jackson, Kath Dalmeny and Charlie Powell from the Good Food for Our Money campaign delivering Whiska's cat food to Defra on 8th March 2011. Their aim was to show that even cat food now has sustainability standards for its fish ingredients (Whiska's is committed to using Marine Stewardship Council certified fish), yet government catering does not! In May 2011, Defra is still deciding on whether to adopt a fully sustainable fish buying policy.
In March 2011, Sustainable Fish City joined forces with the London Mayor's food advisor Rosie Boycott to invite David Cameron and Number 10 to adopt a sustainable fish policy for its catering [read their letter here].
This letter said: "By adopting a fully sustainable seafood procurement policy, you would ensure that caterers for your own dining at Number 10 – and also in Whitehall, prisons, the armed forces and government departments – no longer serve endangered species; promote sustainable management of fisheries; and support good fishing livelihoods. Many of these institutions are based in London, so you could go a long way to helping London be the world's first Sustainable Fish City, and inspiring others to take part."
We understand the decision - to move from only 60% sustainable seafood (the average already achieved by government departments) to 100% sustainable seafood - now sits with the Home Affairs Cabinet Committee (HACC). Sustain is collaborating on another letter, this time to the committee,with Hugh Fearnley Whittingstall's Fish Fight campaign, Greenpeace, Marine Conservation Society, Environmental Justice Foundation, Shellfish Association, Fish2Fork and the Good Food for Our Money campaign [read the letter here].
"I am determined to do something about the way we fished the seas. We know the problems, we donít even need any additional information to know how to fix them: we just have to get on and do it. No excuses."