News
Sainsbury's helps customers to 'Switch the Fish' to sustainable alternatives
01/06/2011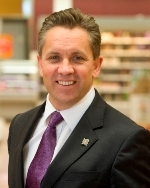 The high-street retailer Sainsbury's has had a long-term commitment to selling and promoting sustainable fish. In June 2011, the retailer launched the Switch the Fish initiative, to encourage shoppers to try alternatives to the Big 5 species most popularly purchased - and whose stocks are hence under pressure. The Switch the Fish initiative also signals Sainsbury's commitment to work on other seafood sustainability issues, such as greater support for the promotion of Marine Stewardship Council (MSC) certified seafood and finding solutions to unnecessary fish discards. Read the Sainsbury's Switch the Fish report.
In the foreword to the report, Sainsbury's Chief Executive Justin King (pictured) said, "Our business wholeheartedly believes there is an urgent need to restore declining stocks of our most popular seafood and introduce long-term management plans for all fisheries. Switch the Fish is part of our work to encourage shoppers to widen their repertoire and choose sustainable varieties of our most-loved fish."
Sainsbury's is the largest UK retailer of MSC-certified sustainable fish and seafood products, with over 80 products that carry the Marine Stewardship Council (MSC) logo. Specific steps that Sainsbury's has taken recently to support sustainable fish include:
In January 2011 Sainsbury's announced all own brand canned tuna used as an ingredient in its food will be caught using the pole and line method. This move ensures that 100% of Sainsbury's tuna across all products is responsibly sourced.
Sainsbury's is sourcing cold water prawns from the MSC certified Canadian fishery or the managed fisheries in Norway and Greenland.

Previous work by the retailer on sustainable fish includes:
In 2006, Sainsbury's worked with the Marine Conservation Society (MCS), its suppliers and independent fisheries scientists to improve their understanding of the species they sell. Together, they created a 'traffic light' tool so the retailer's fish buyers can rate fish and seafood against one of three levels of sustainability.
A green rating means the fish is in good supply and managed effectively. Amber indicates there are some concerns about stock levels or management, but there is work in place to tackle these difficulties. Red signals major problems with the sustainability of a fish. Sainsbury's does not sell red rated fish.
Sainsbury's has over 80 products bearing the MSC logo. The retailer states that this is the highest industry accreditation and means the fish comes from fisheries and supply chains certified the MSC. Sainsbury's sells more MSC-certified fish and fish products by range and turnover than any other UK retailer, with sales now reaching over £60million.
Greenpeace placed Sainsbury's as number one for its responsible sourcing policy for canned tuna (2008 and again in 2011). And in January 2011 the retailer announced that every own-brand canned tuna product they sell comes only from pole and line caught fish (including ingredients in ready meals, sandwiches and sushi).
Similarly we stock only fresh and frozen cod and haddock that is line-caught, again minimising bycatch.
Sainsbury's is the biggest retailer of RSPCA Freedom Food certified farmed Scottish salmon. This standard means the farms have higher welfare standards. In 2008, Sainsbury's launched responsibly sourced salmon reared on RSPCA Freedom Food approved farms on the West Coast and Islands of Scotland.
The retailer supports trials and uptake of selective fishing gear. In the south-west, new nets have reduced bycatch by half.
Sainsbury's offers a wide selection of regional seafood on our counters, including coley, Cornish sardines, dab, megrim, pollack, and pouting.
More than 2,000 of staff working on fish counters have had training to help customers make sustainable seafood choices. This has been integrated into beginner and intermediate fish counter training and features in the Sainsbury's NVQ Level 2 apprenticeship that is run in partnership with government.
Rosie Boycott, London Food Board

"Taking a sustainable approach to fish is critical to the food security of our city. It is shocking to think that within our lifetimes, we could lose some of our favourite species from the seas forever."