Food in the public sector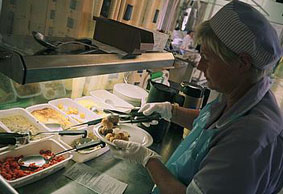 Each year, local and national public sector organisations spend over £1 billion on food - including in schools (£320m per year), hospitals (£300m per year), care homes and the armed forces (£195m per year). This presents a huge and exciting opportunity to invest in healthy and sustainable food, for the benefit of many of the people that need it most - schoolchildren, hospital patients and care home residents, as well as the many thousands of staff that work in public sector institutions.
The Government has recently recognised the enormous power of the public sector to improve the food system, supporting good health, environmental protection and good livelihoods for sustainable farmers and food producers. In July 2011, the government adopted binding Government Buying Standards for food served in central government - Whitehall, Government Departments, prisons and some parts of the armed forces. This followed government support for the healthy and sustainable food standards adopted by the London 2012 Olympic and Paralympic Games in its London 2012 Food Vision. The government hopes that these standards will spread to the wider public sector, including schools and hospitals.
How you can promote health and sustainability in the public sector
If you buy or prepare food in the public sector, then you have a significant role to play in helping to achieve a healthier and more sustainable food system, for the benefit of people and the planet. You can:
What is healthy and sustainable food?
Follow the links below, to find out about support or advice to help turn good food ideas into action: