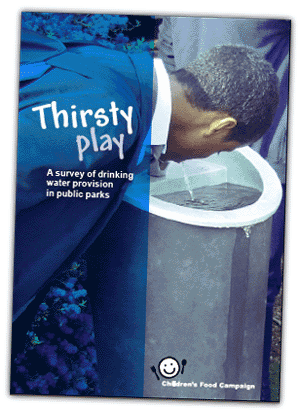 This survey of 140 parks around the UK found only 11% had fountains, and in only two thirds of these parks were any of the fountains working. This encourages thirsty children to turn to sugary alternatives or go without, both of which are bad for their health.
Parks can be a great place for children to get active, whether it's playing in the playground or kicking a football about. But this physical activity can be thirsty work.
This survey by the Children's Food Campaign found that the vast majority of parks lack drinking fountains or other sources of drinking water, leaving children to go thirsty or visit the nearest ice cream van, shop or takeaway where there may be few healthy options available, and lots of tempting but unhealthy drinks and snacks on offer. Even where parks did have fountains, too often they were difficult to find, not working or too few for the size of the parks.
---
Report contents
Introduction
Children's health
Drinking for the planet
Drinking water in parks
Our survey
Our results
Parks surveyed
Drinking water provision
Other options
Public attitudes
Recommendations
Conclusion
Appendix A: Park drinking water survey
Appendix B: Parks surveyed