Red Tractor launches Team RT for 2012
30/04/2012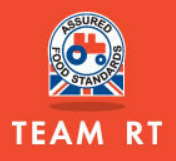 The Olympic Games is fast approaching, and to celebrate being a part of LOCOG's Food Vision for the 2012 Olympic and Paralympic Games, Red Tractor is launching Team Red Tractor ('Team RT').

Team RT covers Red Tractor farmers, processors and packers, wholesalers and contract caterers that will feed the Olympic athletes, coaches, officials and millions of visitors to the event. Commencing 30th April, Red Tractor introduces Team RT's 7 champion farmers in a 5-day UK tour aimed at school children.

The tour will educate local school children on how food is produced and how it makes its way to the 31 Olympic venues contributing to 14 million meals at the event under the Red Tractor scheme. The farmers cover different sectors, including dairy, beef and lamb, poultry, fresh produce, crops and pigs.

Throughout the 31 competition venues, Red Tractor food will be served to around 23,900 athletes and team officials, 20,600 broadcasters and press and over 9 million visitors. Across the London 2012 Games LOCOG estimate that the the athletes' village alone will serve:
25,000 loaves of bread, 31 tonnes of poultry items
More than 100 tonnes of meat
75,000 litres of milk, 21 tonnes of cheese
More than 330 tonnes of fruit and vegetables, and 232 tonnes of potatoes
Richard Cattell, Head of Marketing and Communications at Red Tractor Assurance, the UK's leading quality food assurance mark, said, "We are extremely proud to be part of the largest peace-time catering operation in the world. We want to increase national awareness of Red Tractor farmers and establish a food legacy which helps to educate children so that they understand where their food comes from."

Lee Woodger, Head of Food Chain Unit at the NFU: "The eyes of the world are on our athletes and our farmers. Team RT covers Red Tractor farmers, processors and packers, wholesalers and contract caterers. This is an important milestone for Red Tractor and the perfect time to showcase the hard work that UK farmers, growers, food service operators and retailers put into delivering quality food under the Red Tractor scheme all year round."

Follow Team RT at: www.TeamRT.org.uk, which contains fun and interesting facts, educational resources for schools and daily activity posts and vox-pops via social media - Facebook 'Red Tractor' and Twitter @RedTractorFood.

Team RT is also showcasing industry experts to advise on various aspects of farming standards and food.

For the public attending one of the many events or watching it from their home, the Olympic organisers have committed to sourcing quality food with strict standards of production from farm to venue under the Red Tractor Scheme, meaning that athletes and visitors alike will be consuming good food that guarantees food safety, quality and traceability. The London 2012 Food Vision standards also mean that Fairtrade food and drink, sustainable fish, and some foods grown to higher standards of animal welfare and environmental protection will also be served.