Food for Resilience: Transatlantic Lessons from Community Gardens and Farms
18/09/2020 15:00 16:30
Join community gardens and farms from London, New York and Toronto to look at how growing food in cities can contribute towards resilience, food security and Covid-19 response.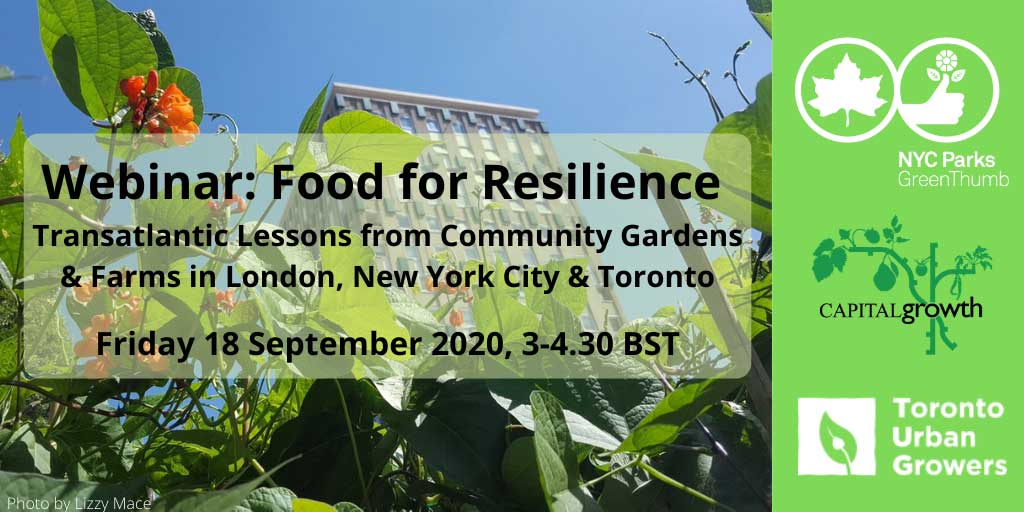 This event will bring together experiences between networks, growers and urban farmers from London, Toronto, and New York City to show how gardens and farms are contributing toward their cities' resilience, food security, and Covid-19 response.
Organised by Capital Growth (part of Sustain) in London, NYC Parks GreenThumb in New York, and Toronto Urban Growers, this webinar will share lessons from across the pond on how community gardens and urban farms can respond to crisis, build solidarity among neighbours and prepare for the road ahead.
The event will include presentations from each of the networks, stories from the gardens and farms and time for Q&A. It will be chaired by Melana Roberts, Chairperson of the board of Food Secure Canada.
Stories of resilience from@
Please note this is event is at 10am EST and 3pm BST.
Register for your free ticket here
---
18/09/2020
Capital Growth
SHARE
---
Capital Growth: The Capital Growth campaign, run by Sustain's London Food Link offers practical and financial support to communities around London to help more people grow more food, and to have greater access to land and growing spaces for community benefit. The Capital Bee project, part of Capital Growth, seeks pledges to promote bee-friendly behaviour, and supports establishment of community beehives.