People
David Attwood, Loch Fyne Oysters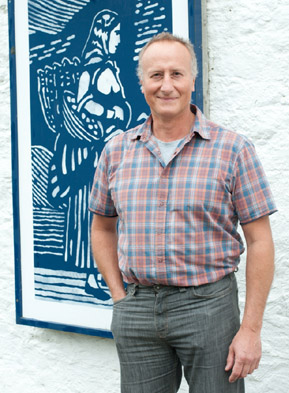 The Loch Fyne Oysters company started with one inspirational idea – to grow oysters in the clear, fertile waters of Loch Fyne – and has developed into a cluster of businesses. Based in old farm buildings at Clachan, Cairndow, at the head of Loch Fyne in Scotland, Loch Fyne Oysters Ltd runs the original Oyster Bar and Shop, home delivery service, Loch Fyne Direct, the Smokehouse, the Oyster and Mussel Farm and a retail supply and trade sales service.
On signing up to Sustainable Fish City, as a supplier of many businesses in London, Production Director David Attwood explains why he thinks a sustainable approach to fish and seafood is so important.

---
Why do you think sustainable fish is important?
Sustainable fish are important as an alternative species as they help to take the pressure of the at-risk and endangered stocks. Of course the fishing of these sustainable species needs to be carefully monitored to ensure that they are also not put at risk.
What inspired you to take action on sustainable fish?
I was inspired by reading the book End Of The Line by Charles Clover - plus an awareness of the plight of our fish stocks.
And what have you done as a result?
We have ensured that we have checked out the sustainability and provenance of the fish and shellfish products that we supply. We actively promote species such as red gurnard, black bream, grey mullet, hake when available, and mackerel. We also increase reliance on aquaculture species. We have also joined the UK Seafish Discard Action Group.
What would you say to a concerned citizen interested in supporting sustainable fish?
Sign up to Fish Fight. Look up fishonline and the Good Fish Guide published by the Marine Conservation Society (MCS) sustainable seafood guide and only buy sustainable seafood!
What would you say to a restaurant interested in serving sustainable fish?
Contact Loch Fyne Oysters Limited or Simsons Fisheries Limited for advice on how to source sustainable seafood.
What would you say to someone in a similar business to yours?
What type of legacy do you want to leave to your grandchildren regarding the fish that will be swimming in the oceans in 2050?
What would you say to a business that hasn't yet tackled sustainable fish?
I would suggest you are missing a huge opportunity.
Hugh Fearnley-Whittingstall, Fish Fight

I have been travelling around the UK meeting fishermen, marine conservationists, politicians, supermarkets bosses, and of course fish-eating members of the public. It has changed the way I think about fish.