People
Malcolm MacGarvin, Pisces Responsible Fish Restaurants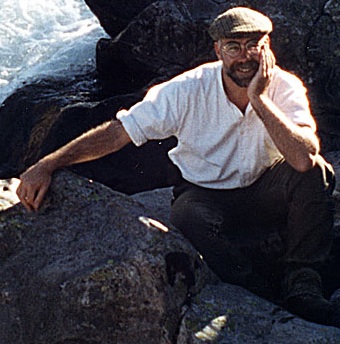 Malcolm MacGarvin is co-founder of Pisces, with Caroline Bennett, of the not-for-profit organisation Pisces Responsible Fish Restaurants. He is also Director of Modus Vivendi Ltd, which provides environmental professional services.

Pisces has been piloting work that links restaurants with fishers in the UK who are striving to be more sustainable. The aim is to gradually improve the sustainability score of the 'portfolio' of fish used by the restaurants, and encourage fishers to be more sustainable by providing a better market for their fish.
Here, Malcolm explains why he thinks sustainable fish is so important.
---
Why do you think sustainable fish is important?
Well, fish can be very good for our health (providing we go easy on the deep fries!). Also, the sort of inshore UK fisheries that Pisces works with are labour intensive in areas where there isn't much employment. And we have an obligation as stewards to look after the planet and all the species it nurtures, even if they are out of sight, creepy and or slimy (but not smelly, because fresh fish do not smell, as any fool kno!)
What have you done to support sustainable fish?
After doing a Ph.D and post doc work on ecology, I started campaigning with groups such as Greenpeace in the late 1980s, much of this on protecting the seas around the UK from various threats. including unsustainable fisheries.
In 2000, I co-authored a report for WWF-UK called Choose or Loose, which essentially said that fishers and environmentalists shouldn't be arguing, because in the end they should want the same thing – more big fish. The challenge was how we got from here to there. We raised and then largely wasted over a million quid trying to agree the 'here to there' with the various stakeholders in the south west. This failed because the moment (and perhaps the methods) were not right for the time.
Anyway, following this, Caroline Bennett and I decided we wanted to do something more active, seeking out boats who were trying to doing the right thing (even if things weren't perfect) and then support those fishers by offering them a market rather than a report. This was, and is, very hands on, actually getting out on the boats and photographing, videoing them and putting all this info onto the Pisces website, sometimes even following the fish up to the restaurant - the ultimate in traceability.
A local example for London that sums up some of the issues are the 'long line' fisheries for cod in the outer Thames, and off the East Anglian coast. These point one way to the future, because they catch larger cod with literally no discards. They have lots of baited hooks on a long line (hence the name!) and this was the traditional low energy way of catching fish like cod before some bright spark came up with the idea of trawlers dragging gear over the seabed.
Discarding of many immature fish like cod is an inevitable part of, for example, small mesh net trawling for prawns (langoustine, scampi), which is now – problematically – one of the most valuable fisheries in Britain. So it's not possible to say that say that long lining is currently sustainable, because they are still removing fish from a badly depleted stock, even if the long-lining isn't directly responsible for the problem. But they show that there is a potential way forward for cod, so we support them because they provide hope, an example of a way forward, even though we still have to give them a low score on the restaurant's portfolio! And I, personally, would always eat only creel (pot) caught langoustine, because thats a good way of catching prawns, again using little energy, without discards, and without disturbing seabed habitats.
If you want the specific link to information on the long-line fishery for cod you can read about it on the Pisces Responsible Fish Restaurants website.
What inspired you to take action on sustainable fish?
Treading lightly on the earth; caring about non-charismatic species; caring about fishers and their families; going behind the lines and talking and listening to people 'on the other side'; and caring about a traditional part of British cuisine. We've almost casually, carelessly destroyed and degraded life in the seas off our coast when – technically speaking – and on the grand scale of the various problems humanity faces, it is a relatively trivial issue to sort. Given the chance, fish would grow and replenish in a few years, as we unfortunately demonstrated in the two World Wars, when fishing in the North East Atlantic was restricted, and the stocks staged an astonishing recovery (with the result that fishers earned "filmstar sums", as one later recounted).
What advice would you give to a concerned citizen interested in supporting sustainable fish?
Hmm, that's a difficult one, especially buying in restaurants. Most mussels, mackerel and probably brown crab will come from pretty good fisheries, but the rest may be from more questionable sources unless the restaurant is taking specific action to improve.
It's a bit easier in supermarkets, where these put the method and country of origin on the pack. While aware of recent MSC certifications in UK waters, I currently feel ok about getting, in addition to the mussels and mackerel, line or gill net caught cod and haddock from Iceland and Norway, herring caught in Norwegian or Shetland waters, MSC certified Alaskan salmon, and northeast or northwest Atlantic prawns (the small ones) as well as line-caught yellowfin tuna.
There are others, but for these I'd need more information, the sort that it would be difficult for many restaurants or retailers to provide credible information, especially if you are a normal, probably rushed, shopper.
What would you say to a food buyer who isn't yet acting on the issue of sustainable fish?
Shame on you!
Find out more about Pisces Responsible Fish Restaurants: www.pisces-rfr.org
Raymond Blanc OBE, Chef Patron, Le Manoir aux Quat'Saisons

Good ethics should be part of everyday business. Many restaurants and caterers in this are helping to protect our precious marine resources. They should get rightful recognition and inspire others to do the same.