People
Allegra McEvedy MBE, chef, writer and presenter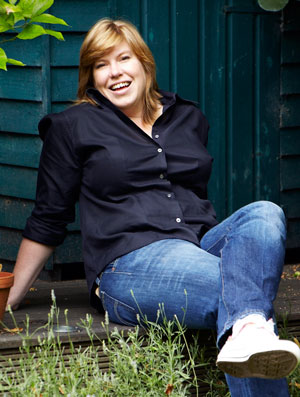 Described by The Independent newspaper as "a caterer with a conscience", Allegra McEvedy has been cooking professionally for 20 years, working her way through a clutch of London's best restaurants as well as an 18-month spell in the States.
During these times, she developed the philosophy that she continues to live and work by: that there are more ways for a chef to make a difference than by winning Michelin stars, and good food should be available to everybody.
Allegra now concentrates on writing and broadcasting with a number of books and television series to her name. Allegra sat on the advisory board to the Good Catch project and kindly donates time and expertise to Sustainable Fish City.
---
What inspired you to take action on sustainable fish?
To stand by and do nothing, say nothing as we slowly drain the oceans of their livestock is to make one complicit, and that's just not a position with which I was comfortable. I want my daughter to be able to fall in love with fish and seafood in the same way that I have, and at current rate of acceleration all she'll be left with is crabsticks.
And what have you done as a result?
I travel with a fishy soapbox that I'll jump on at the slightest provocation. Basically I talk about sustainability in every forum I come across, be it professionally in my books, or on radio or TV, or just in everyday life: at the fish counter in the supermarket or at the fishmonger, in restaurants and even in the chippie. Constant, badgering chat is basically my specialty!
What would you say to a concerned citizen interested in sustainable fish?
Always ask BEFORE you buy, whether it's for you to cook or fish and/or seafood that's being cooked for you. Keep raising the bar of awareness higher and higher. Just don't buy it if it hasn't got the appropriate accreditation. And check the Marine Conservation Society website.
What would you say to a caterer or restaurant interested in serving sustainable fish?
Much as you may think that you need to serve farmed prawns or green-lipped mussels or warm water fish, you really just don't. There are so many wonderful species that flourish in and around our island that looking further abroad is not only unnecessary but also out of tune with what the public increasingly wants.
What would you say to a business that hasn't yet tackled the issue of sustainable fish?
What's stopping you? Now is the time…take the plunge and come on in: the water's lovely!
Hugh Fearnley-Whittingstall, Fish Fight

I have been travelling around the UK meeting fishermen, marine conservationists, politicians, supermarkets bosses, and of course fish-eating members of the public. It has changed the way I think about fish.