People
Olivia Knight-Adams, Sustainable Olympic Games Project Coordinator, Coca-Cola GB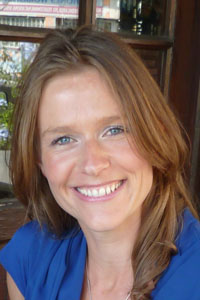 Since graduating in 2001 with a degree in Environmental Studies and Spanish, Olivia has pursued a career in sustainability spanning across the charity, government and business and sectors.
Prior to joining Coca-Cola in 2011, Olivia was Programme Manager for a successful Defra funded behaviour change project operating at 20 universities across the country. Olivia has enjoyed working overseas as a Marine Biologist in the Maldives and also spent four years managing community and conservation projects and expeditions in South America. In 2008 she graduated from Forum for the Future's Leadership for Sustainable Development Master's degree, having worked in the sustainability teams of The Foreign and Commonwealth Office, Tui Travel and The Guardian newspaper. On completing her Masters Olivia joined London 2012 working as Sustainability Advisor for the Olympic Delivery Authority.
At present, Olivia is working within Coca-Cola's London 2012 team, ensuring that it activates its sponsorship to:
Embed sustainability across all of Coca-Cola's London 2012 operations via implementation of the ISO2012-1, the International Standard for sustainable event management.
Manage Coca-Cola's sponsorship of the charity StreetGames which brings sport to the doorstep of young people in disadvantaged communities across the UK.
Work with the sustainability charity, Bioregional to deliver The One Planet Centre, a unique experience within the Athletes Village which encourages athletes behave more sustainably.
---
How much of your time did it take before you were comfortable that Coca-Cola GB would be able to sign the pledge?
Coca-Cola GB signed up to the Sustainable Fish City pledge in June 2012. From when we looked into things to final sign up, approximately 4 months (Not because it was such an arduous process but because of various internal commitments / staff holidays etc). It was actually a fairly straight forward and simple process once we had internal commitment (from both senior management and our catering supplier) to signing the pledge.
The pledge contains several steps. How did you take these?
Step 1 - State our commitment: Tell our customers and the public that we are developing and implementing a policy on seafood sustainability in our business.
All fish supplied in Coca-Cola GB's Hammersmith staff restaurant is now Marine Stewardship Council (MSC) Certified.
Step 2 - Gather information: Assess and monitor the environmental sustainability of the seafood we serve.
Prior to signing the pledge we worked together with Compass's Responsible Sourcing Manager and our Catering Manager to assess the environmental sustainability of the fish we served in our staff restaurant. Using the Marine Conservation Society guidelines, we discovered that approximately 15% of our fish we procured was from the "Green group" and 85% from the "Amber group". We have since changed our buying policy and now only buy fish that is MSC certified and in the "Green group".
Step 3 - Source sustainably: Make sustainable seafood choices. This will include:
Avoiding the worst: Telling our supplier(s) or caterer to remove endangered species from menus and catering – those rated as 'fish to avoid' by the Marine Conservation Society
We instantly decided to remove all fish from the "Red" list.
Promoting the best: Serving sustainably managed fish – MSC-certified fish, and those rated as 'fish to eat' by the Marine Conservation Society.
Improving the rest: Telling our supplier(s) or caterer we want to serve only sustainable fish – and that there are organisations that can help them to do this, such as Good Catch: and the Marine Stewardship Council
We had meetings with Compass to state our commitment to only sourcing sustainable fish. We worked with Compass to develop new menus that reflected this commitment and gained senior level buy in and funding to make this switch possible. This is in line with our wider commitment to sustainable sourcing.
Step 4 - Communicate clearly: Spread the message with our customers, supplier(s), caterer, employees and other key stakeholders about seafood sustainability. Consider investing in Marine Stewardship Council (MSC) Chain of Custody certification to enable us to communicate the sustainability of MSC-certified seafood to our customers.
We decided that we also wanted to go one step further and gain the MSC Chain of Custody Certification. This involved all of our Hammersmith catering staff being trained and the restaurant being independently audited to verify that no fish or seafood served in the restaurant is at risk from extinction nor from unsustainable fisheries.
We held a really well received "Lunch and Learn" sustainable fish buffet in May where the MSC came in and communicated the importance of, and Coca-Cola's move to, sustainable fish to all staff. Our staff were really engaged in the event and were provided with a series of sustainable fish recipes to encourage them to make the right decisions at home as well. We also displayed MSC logos on the dishes and posters all around the restaurant.
Step 5 - Influence wider progress: Support positive change for fish, fisheries and marine resources; using our influence to encourage others to join our seafood sustainability journey and the Sustainable Fish City campaign.
As part of work we've been doing to engage our Olympic hospitality suppliers around sustainability (as part of the BS8901/ISO2012-1) we held additional meetings with our suppliers to explain the Sustainable Fish City Pledge and encourage them to sign up to it. On the back of this encouragement both The Langham Hotel and Benugo (both of whom provided catering for participants on our Olympic programmes) signed the Sustainable Fish City Pledge.
What would you say to other businesses who are considering taking action on sustainable fish?
I would certainly recommend that other businesses sign the pledge and take action to ensure that they are not contributing to the demise of our oceans. We all have a responsibility to safeguard the world's remaining fish stocks, and by acting together we can all make a real difference. A lot of it is about increasing awareness about the severity of the problem and helping people to realise that in most cases there are affordable and tasty alternatives! Taking action is easy and communicating the importance of buying sustainable fish to employees and suppliers will only increase the positive impact that businesses can have.
Raymond Blanc OBE, Chef Patron, Le Manoir aux Quat'Saisons

Good ethics should be part of everyday business. Many restaurants and caterers in this are helping to protect our precious marine resources. They should get rightful recognition and inspire others to do the same.