Belfast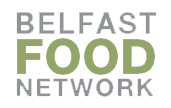 The Belfast campaign is coordinated by the Belfast Food Network, and is the first City in Ireland, north or south, to take up the challenge of becoming a Sustainable Food City. And they need your help! If you are a food-serving business in Belfast, please sign the pledge and help your city to become the world's first Sustainable Fish City, or contact kerry@belfastfoodnetwork.org for more information.
The following food-serving organisations in Belfast have signed the Sustainable Fish City pledge for their fish buying, also promising to promote sustainable fish to their staff and customers.
Local authorities and schools
This city has no pledgees in this category. Be the first organisation to pledge.
Hospitals
This city has no pledgees in this category. Be the first organisation to pledge.
Universities
Belfast Metropolitan College
Belfast Met is the largest further and higher education college in Northern Ireland with enrolments totalling 37,000. It is spread across several campuses throughout the city, and provides a unique range of education and training at every level. The college set up EnviroMET in 2010, and is currently working towards raising environmental awareness amongst staff and students and has developed a College Sustainability Statement to act as an action plan to embed sustainability within the culture of the College
Workplaces
This city has no pledgees in this category. Be the first organisation to pledge.
Restaurants and iconic businesses
Fish City Fish and Chips
Fish City exploded onto the Belfast food scene in August 2016, with a sustainable fish menu that can truly be called industry-leading. They were the first fish and chip shop in Ireland to achieve Marine Stewardship Council certification and the first UK chippy to become corporate members of the Marine Conservation Society. They train all staff on sustainability issues and run a schools project to deliver sustainability messages to local children.

Made in Belfast
The Company's main priority is food, which has to be high quality, local where possible and ethically and environmentally sourced. Following the success of the original Made In Belfast, Hooligans was opened in the Cathedral Quarter's Talbot Street in 2010. They also provide a definition of sustainability online, including an extremely strict fish buying policy – never buying endangered species or fish in its breeding season, working closely with their supplier and using lesser-known species of non-endangered fish in their dishes.
Mourne Seafood
With branches in Belfast, Dundrum and Dublin, Mourne Seafood restaurants are unique in Ireland as they source all their shellfish from our own shellfish beds. Citing their fresh, local seafood at affordable prices, the menus change daily to reflect the seafood on offer.
Slow Food Northern Ireland and the Narrows
Located in Portaferry, Northern Ireland, the Narrows is a restaurant with strong connections to the Slow Food campaign and movement. The menu reflects Slow Food's core values of championing small-scale producers whilst promoting good quality local and sustainably produced food. At the 2014 AGM, Slow Food UK announced a plan to re-structure the organisation with an increased regional emphasis, enabling the setting up of separate bodies for Slow Food Scotland, Wales, England and Northern Ireland, all supported by Slow Food UK's central office.
The Ginger Bistro
Ginger Bistro opened in 2004 and has won many awards including the Best Restaurant in Northern Ireland 2011 in Which? Good food guide. The quirky, stylish interior stands out with its Moroccan & South East Asian inspired lighting and local art.
The John Hewitt
Located in Belfast's Cathedral Quarter, The John Hewitt first opened in December 1999. The bar is unique in its ownership as it is owned by The Belfast Unemployed Resource Centre. John Hewitt, the late poet, socialist and Freeman of Belfast officially opened the Resource Centre on Mayday 1983, hence the name of the bar.
Titanic Belfast
Located in the Titanic Quarter in Belfast, visitors can choose from Bistro 401's restaurant menu featuring the best of local produce or sample speciality teas, coffees and delicacies at the Galley. Bistro 401 offers a range of Titanic inspired heritage dishes and daily specials, all freshly prepared by the team of chefs and made with the very best of locally sourced Northern Irish produce. Titanic Belfast has pledged to ensure that their suppliers will only supply them with sustainable fish.
Mourne Seafood pop-up event
Belfast Food Network is keen to engage the city's residents on food issues and encourage people to try alternative sustainable types of fish, so it teamed up with the well-known local restaurant, Mourne Seafood, to create a pop-up fish tasting event outside Belfast's iconic City Hall.
Mourne Seafood, a Fish Cities pledge signatory, cooked up tasting portions of sustainably-sourced gurnard, pollock and scallops for people to sample, with experts on hand to talk about the sustainability of these alternative species. Mourne sources its shellfish from their own Dundrum Bay estuary beds and its fish directly from the local ports of Kilkeel and Annalong.