Future Farmers II: A guide to running a farm-based agroecological traineeship
There are many benefits to taking on farm-based trainees and this document is aimed at farmers interested in doing so, with a step by step guide on things to consider and how to go about starting out. It also contains a number of great case studies to inspire farmers and trainees alike. The guide has been developed by Groundspring Network, the Organic Growers Alliance and Sustain, building on Sustains previous Future Farmers publication which aimed to support urban growing traineeships.
Report contents
Setting the scene
Introduction
What is an informal traineeship?
Definitions: apprenticeship versus traineeship
Benefits of traineeships
Benefits for the farmer
Benefits for the trainee
Benefits for the food and farming sector
Existing programmes
Should traineeships be paid?
A trainee's experience
Key considerations
Key considerations for hosts
What to look for in a trainee
Key considerations for trainees
What to look for in a host farm
Other considerations
Employment Law
Health and Safety
Insurance
Communication
Writing an agreement
Trial period
The selection process
Advertising the post
Scoresheet
Interviews
Timeline

Making a traineeship syllabus
Community Supported Agriculture (CSA)
Other learning methods

Next steps
Useful links
Appendices
Advert content
Sample interview questions
Sample score sheet
Partner organisations
Case studies
Tamarisk Farm
Chagfood Community Market Garden CSA
School Farm CSA
Cae Tân CSA
Hindon Farm
Trill Farm Gardens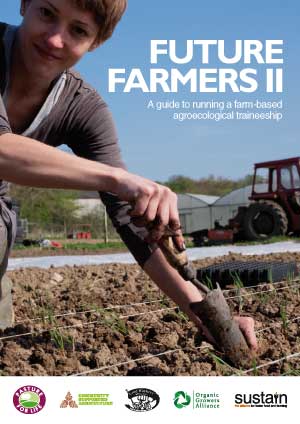 Future Farmers II: A guide to running a farm-based agroecological traineeship
2016 | 4403Kb
Published 12 Apr 2016
Capital Growth: We believe everyone should have the opportunity to grow food as part of a healthy, resilient food system and we are working with our network of growers in London to make this happen.