Our guide to writing about, portraying and providing a platform for diversity and racial justice in the food and farming system.
This is Sustain's guide to writing about, portraying and providing a platform for diversity and racial justice in the food and farming system.
It sets out how Sustain writes about and portrays diversity, and promotes racial justice, including words and phrases that we use and avoid, and how we describe people with a range of personal, ethnic and cultural characteristics. It also covers the sorts of films and imagery we choose to portray diversity; and how we will provide platforms for people from diverse backgrounds to be seen and heard. It forms a part of our commitment to promoting diversity, equalities, inclusion and anti-racism; and also explicitly to tackle racial injustice in the food system.
We recognise that communications play a big role in influencing people's beliefs and attitudes. Our communications should portray diversity as a normal and positive characteristic of the food and farming system. We should help people feel embraced, welcome and included. Our overall purpose is to ensure that in Sustain's approach to communications, we support, celebrate and promote diversity in food, farming and fishing, and in local and national approaches to building the movement for change. Through our communications approach, words and imagery, we will reflect a wide range of people and experiences. We will also employ, work with, portray, promote the work of, and provide a platform for people from diverse backgrounds, with all due respect for dignity, pride, heritage, expertise, achievements, connections and the cultivation of joy.
Deep-rooted structural injustice is embedded in the food and farming system, so we will sometimes need to refer to or portray characteristics of people from diverse backgrounds in association with difficult themes. When we do so, it must be for the clear purpose of challenging the root causes of injustice and we will treat any such description or portrayal with respect and special care, whilst avoiding labels, tokenism, stigma or stereotypes. We will make special efforts to make it easier for people who have suffered injustices to be heard and support them to do so as respected 'experts by experience'.
In developing this guidance, we have drawn upon our own experience, that of the people we work with, good practice set out by support and advocacy groups that work directly with diverse communities (whose good practice we use as benchmarks), and also mainstream media good practice (e.g. the BBC, Guardian and Buzzfeed style guides), and civil service guidance on how people from diverse backgrounds prefer to be described.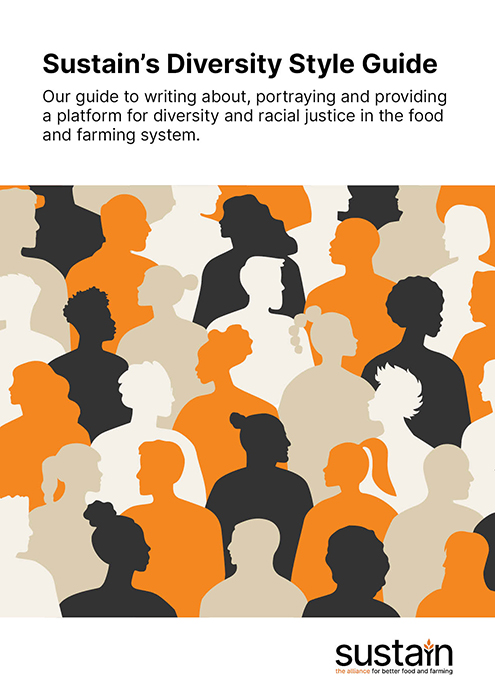 Sustain's diversity style guide
11pp - 2021 | 282Kb
Published 3 Dec 2021
Sustain: Sustain The alliance for better food and farming advocates food and agriculture policies and practices that enhance the health and welfare of people and animals, improve the working and living environment, enrich society and culture and promote equity.