Food for children, hospital patients, charities and low-income households is seriously at risk from no deal Brexit. What shall we do to avert crisis?
Over recent months, Sustain has participated in meetings and conversations with people directly involved in large-scale food supply; public sector institutions; food trade associations; providers of food to charities and emergency food aid; and local authority groups discussing what they can do to mitigate the impact on food supply of a 'no deal' Brexit. A no deal Brexit means the UK would leave the European Union (EU) immediately on 29 March 2019, with no agreements in place for what the relationship would be like in future.
To be clear, the Sustain alliance is opposed to a no deal Brexit, due to the severe implications for food standards and continuity of supply, farming, fishing, food businesses, jobs, animal welfare, antibiotics stewardship and the environment. However, a no deal Brexit is a possibility, so we must be prepared.
This briefing sets aside Brexit politics, and raises the simple question: In the event of a no deal Brexit, how can we ensure that the people most in need can weather the food disruption and food price rises that may ensue, and avoid falling into food crisis and hunger?
We urge the Government to make detailed plans to help the people most vulnerable to food disruption, namely:
Children, hospital patients and people in care, fed by public sector institutions
Vulnerable people being fed by charitable groups
People in crisis who are being referred to food banks, and those experiencing household food insecurity due to low income
The actions we recommend are as follows, and more detail is given in our briefing (link above). These actions would facilitate work at regional and local level. Government must:
Allocate powers and responsibilities
Communicate openly about the food challenges ahead
Make money available
Curb food price increases
Triage and target the food supply for those most in need
Guarantee food safety
Protect food standards
Establish ways to distribute money and information
Freeze other everyday costs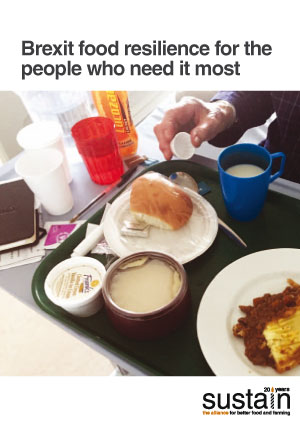 Brexit food resilience for people most in need
7pp - 2019 | 2200Kb
Published 18 Feb 2019
Good Food Trade Campaign: Campaigning for good trade that benefits people and the planet at home and overseas.