Yet more hospital food failure - the bill rises to £54m and still counting
A second, updated report analysing government spending from 2000 to 2010 that has been wasted on failed voluntary attempts to improve hospital food. The bill for failed government initiatives continues to rise, reaching £54m over the past decade.
---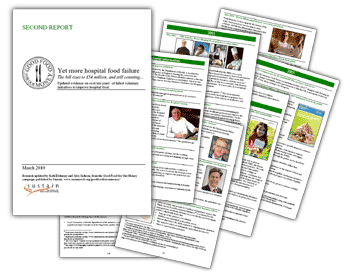 A second, updated report, March 2010, analysing government spending that has been wasted on failed voluntary attempts to improve hospital food over the course of a decade.
In December 2009, Sustain's Good Food for Our Money campaign published a report entitled 'A Decade of Hospital Food Failure', in which researchers estimated that over £50 million had been spent by government on failed voluntary initiatives to improve hospital food between 2000 and 2010. Since completing the first phase of research, new evidence has come to light of government spending over three-quarters of a million pounds more of taxpayers' money on yet another voluntary initiative – the Healthier Food Mark – that continues to repeat the mistakes of the past.

The bill for voluntary initiatives has grown to over £54 million and continues to rise. The government has relied on celebrity chefs and costly gimmicks to paper over the problems with their policies on failed hospital food. It must now take effective action, by requiring hospitals to meet legal standards for hospital food so that, wherever it is served, we can be sure it is safe, enjoyable to eat, supportive of health and good for the environment.
This second hospital food publication by the Good Food for Our Money campaign includes a foreword by Professor Tim Lang of the Centre for Food Policy at City University London.
In 2012, Sustain launched the Campaign for Better Hospital Food. Please get involved to help win compulsory health and sustainability standards for food served in hospitals!
---
Report contents
Foreword
New evidence in 2010 of wasteful spending
January 2010: Chef Loyd Grossman "disappointed and frustrated" by NHS Better Hospital Food Initiative
February 2010: Government pays £788,000 to pilot yet another voluntary food scheme
February 2010: Government fails to promise better hospital food to tackle malnutrition
Campaigners say: Enough is enough!
March 2010: Campaigners call for legally binding hospital food standards
Acknowledgements
A Decade of Hospital Food Failure – research from the first report
1. Tasty morsels of background information
During 1992: Health of the Nation white paper is published
During 1992: King's Fund finds poor nutrition amongst hospital patients
During 1995: Government launches Nutrition Guidelines for Hospital Catering
During 1997: Hospital patients fail to achieve good nutrition
During 2000: Council of Europe reviews hospital food
2. The decade of failures (2000 to 2010)
2000
During 2000: NHS Plan sets out care plan (costing £10m), including food targets
2001
May 2001: NHS launches Better Hospital Food initiative (costing £40m), involving BBC Masterchef host Loyd Grossman, Mark Hix of the Ivy Restaurant, John Benson-Smith of Hazlewood Castle, and The Savoy's Anton Edelmann
During 2001: NHS launches 'Essence of Care' guidance
2003
During 2003: Defra launches Public Sector Food Procurement Initiative (costing at least £2.5m)
November 2003: Advisory group shows malnutrition in hospital patients persists
December 2003: Council of Europe issues resolution on hospital food
2004
During 2004: NHS identifies hospital food as a priority for health and sustainability
2005
May 2005: Government sets up the Sustainable Procurement Task Force
During 2005: Chief Medical Officer Sir Liam Donaldson calls for healthy and sustainable food in the public sector
During 2005: 65,000 people in care homes at risk of malnutrition
2006
During 2006: MP Paul Burstow calls for food standards for nursing homes
March 2006: National Audit Office says the UK can afford sustainable public sector food
May 2006: Better Hospital Food initiative is scrapped
June 2006: Sustainable Procurement Task Force says "it's not difficult" to achieve sustainable procurement
During 2006: Healthcare Commission says hospital patients need help to eat meals
September 2006: Age Concern shows malnutrition in hospital patients persists
In 2006, commenting on the scrapping of the £40m Better Hospital Food Initiative, Loyd Grossman, celebrity figurehead of the scheme, said: "Although we made significant improvements in delivering better quality food to many hospitals, there is still a very long way to go in improving patient nutrition. The Government has made no other plans for improving standards and I am extremely concerned that without a strong, and persistent, voice promoting the issue, it will slip through the cracks."
2007
During 2007: Royal College of Nursing launches Nutrition Now! campaign
May 2007: Public Accounts Committee recommends high animal welfare, fair trade and healthy eating standards in the public sector
October 2007: The Department of Health launches a Nutrition Action Plan
2008
August 2008: The Department of Health launches online nutrition training
July 2008: Cabinet Office Food Matters report promises action
July 2008: BBC reveals hospitals waste £1m worth of food every year
During 2008: Which? investigates the unhealthy state of hospital food
October 2008: Nutrition Action Plan delivery board reports on 'awareness raising'
2009
January 2009: Sustainable Development Commission urges government to show leadership
January 2009: Hilary Benn sets up Council of Food Policy Advisors
April 2009: Public health minister commissions sustainable food guidelines for hospitals
April 2009: Public Sector Food Procurement Initiative falters
April 2009: Royal College of Nursing Nutrition Now! campaign is scrapped
April 2009: Office of Government Commerce launches collaborative procurement project
February 2009: Government drafts Healthier Food Mark guidelines
April 2009: Malnutrition in hospitals and care homes continues to rise
May 2009: Healthcare professionals condemn NHS nutrition initiatives
May 2009: Largest catering company in the world supports legally binding standards
June 2009: Celebrity chef Simon Rimmer asked to revamp Liverpool's hospital food
June 2009: Heston Blumenthal hired to sort out hospital food
August 2009: Government issues tender for voluntary Healthier Food Mark pilots
August 2009: Expert nutrition reviewers cite lack of leadership for malnutrition deaths in hospitals
August 2009: University researchers say hospital food is worse than prison food
September 2009: Council of Food Policy Advisors recommends legally binding standards
October 2009: Defra ignores recommendation to adopt legally binding standards
December 2009: Decade of hospital food failures draws to a close, but more is to come…
2010
Government spends £54m on a Healthier Catering Mark for public sector institutions, but finds that very few hospitals have taken up this voluntary initiative
Government must take responsibility for ensuring that the health and ethical hazards of food served in hospitals has been removed before it is served to patients. The only way it can do this is to introduce legal health and environmental standards for hospital food so that patients throughout the country are assured that it is healthy to eat and has been produced in a way that works in harmony with the planet.
Professor Tim Lang, Centre for Food Policy, City University London
---
30/03/2010
Good Food for Our Money Campaign
SHARE
---