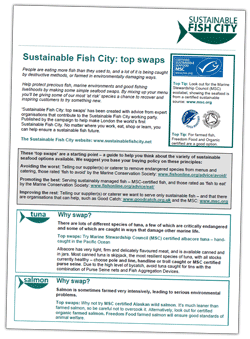 Give your customers the confidence that you are taking a responsible approach to buying and serving fish. You will be helping protect precious fish, marine environments and good fishing livelihoods for years to come.
Reduce the pressure on popular fish species by making simple swaps to species and fishing methods that are more sustainable. This 3-page guide gives straightforward information about the problems that need to be tackled and provides tips on sustainable options for popular species such as tuna, haddock, cod, salmon and halibut.
People are eating more fish than they used to, and a lot of it is being caught by destructive methods, or farmed in environmentally damaging ways. By mixing up your menu you'll be giving some of our most 'at risk' species a chance to recover and inspiring customers to try something new. These 'top swaps' are a starting point – a guide to help you think about the variety of sustainable seafood options available on your menu.
'Sustainable Fish City: top swaps for restaurants' has been created with advice from expert organisations that contribute to the Sustainable Fish City working party. Published by the campaign to help make London the world's first Sustainable Fish City. No matter where you work, eat, shop or learn, you can help ensure a sustainable fish future.
---
Publication contents
Top tips on eco-labels to look out for
Principles of Sustainable Fish City
Top Swaps
Tuna
Salmon
Haddock
Cod
Prawns
Plaice
Eel
Swordfish
Sea bass
Skate
Halibut