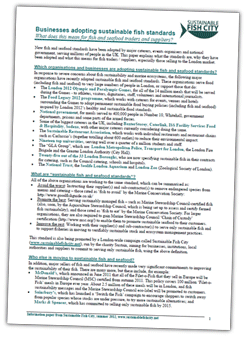 Businesses adopting sustainable fish standards: What does this mean for fish and seafood traders and suppliers?
Published in summer 2012, this Sustainable Fish City briefing paper gives straightforward information to fish and seafood traders and suppliers about the sustainable fish standards that the London 2012 Olympic organisers, as well as a rapidly increasing number of caterers, retailers and restaurants are adopting.
New fish and seafood standards have been adopted by major caterers, events organisers and national government, serving millions of people in the UK. This paper explains what the standards are, why they have been adopted and what this means for fish traders / suppliers, especially those selling to the London market.
The briefing paper answers common questions such as:
Which organisations and businesses are adopting sustainable fish and seafood standards?
What are "sustainable fish and seafood standards"?
Who else is moving to sustainable fish and seafood?
What's the problem they are trying to fix?
What does this mean for traders and suppliers?
How to find out more information and get involved