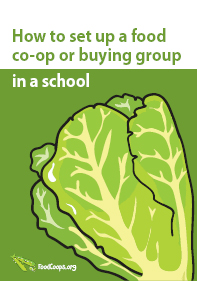 The simple "how to" factsheet advises schools on how to make fresh, local, ethically produced food more accessible to the local community, whilst supporting local farmers by providing them with a local, regular and reliable outlet.
A school food co-op can also support other programmes such as Healthy Schools, Eco Schools and Food For Life. The guide gives advice on the ten Ps of running a food co-op:
People
Planning
Produce
Premises
Practical resources
Procedures and pricing
Promotion
Policies and principles
Permits and licenses
Progress
The publication concludes with a case study of 'Froots Roots En Shoots' food co-op at Buckland St Mary Primary School in Chard, Somerset.
Published by Sustain's Food Co-ops project, in partnership with the Soil Association and funded as part of the Big Lottery's Making Local Food Work programme. For more information on Food Co-ops, and to use the Food Co-ops Toolkit or Food Co-ops Finder, visit: www.foodcoops.org.