This London Food Link report provides insights into the practices and attitudes around food sustainability in the restaurant, hotel and catering sectors in London, and early initiatives to support improvements. It features many examples of good practice showing how restaurants around the capital have incorporated sustainability including Leon, Acorn House and the Duke of Cambridge. The report also explores ways to stimulate a more sustainable food system, and the people and organisations best placed to make this come about. The report shows that many of London's restaurants are missing out on a booming market for local and ethical food and those who are already using sustainable ingredients could do more to communicate this effectively to their customers.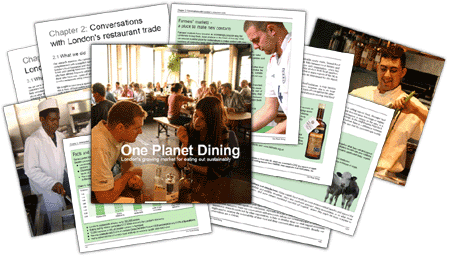 This London Food Link report (2007) provides insights into the practices and attitudes around food sustainability in the restaurant, hotel and catering sectors in London, and early initiatives to support improvements.
This 124-page report is part of a programme of work by London Food Link to improve the sustainability of London's food system, in support of the Mayor of London's ground-breaking London Food Strategy, published in 2006. The research and activities that gave rise to this report were funded by the Environmental Action Fund (EAF) of the Department for Environment, Food and Rural Affairs (Defra) as part of a wider initiative to promote sustainable consumption. London Food Link's work on this and related themes was also supported by the European Regional Development Fund (ERDF).
For this report, we set out to investigate the potential for greater use of sustainable food, and greater uptake of sustainable business practices by London's food service sector. We interviewed 27 people who run restaurants, hotels or catering operations in London. Of these, we chose seven restaurants to interview in more depth - those that are already improving the sustainability of their food and business practices. To help us understand the market for sustainable food in the capital, we also reviewed national market research literature and undertook restaurant customer interviews in four areas of London.
Further, we informed our analysis by interviews with seven people and organisations whose work has an important influence on food choices when eating out - the suppliers, regulators, catering training organisations and media professionals who service and report on London's restaurant trade.
As a result, our report provides a picture of current practices and attitudes to sustainability within the restaurant, hotel and catering sectors in London, and initial work to support improvements. The report also seeks to identify the best ways to stimulate a more sustainable food system for the capital, and the people and organisations best placed to make this come about. A companion report has also been published by London Food Link, called Recipe for a Greener Curry, looking at the potential for the adoption of sustainable products and practices by London's multi-cultural food businesses.
Since this report, Sustain has worked to implement its recommendations, or to support their implementation by others. This work has informed the launch of Sustain's Ethical Eats initiative, promoting healthy and sustainable food with restaurants and caterers, which works in partnership with the new Sustainable Restaurant Association. The insights also helped inform establishment of Sustain's Food Legacy campaign which aims to help more caterers and food suppliers achieve the ambitions of the London 2012 Food Vision, and the launch of Sustain's successful Sustainable Fish City campaign.
---
Summary and recommendations
Chapter 1: Introduction
Ethics and eating out
Understanding sustainability and the restaurant sector
Looking to the future
Defining sustainable food systems
A note of caution
Chapter 2: Conversations with London's restaurant trade
What we did
Sustainability pioneers
Local and seasonal food
A growing interest in healthy food
Fish: a subject of special concern
Using organic food
Using local and regional suppliers
A question of scale
The value of certification and brands
Communicating sustainability to customers
Is there a need for a sustainable logo or green restaurant association?
Chapter 3: Conversations with London's restaurant customers
What we did
What we found

Customers buy sustainable produce in the supermarket
Customers sometimes think about sustainability when choosing a restaurant
Customers do not mention sustainability to the restaurant staff
Many restaurants do not give information about food provenance
People put their trust in the restaurant owner
Chapter 4: Conversations with seven food specialists
Academy of Culinary Arts - Sara-Jayne Stanes
Asian and Oriental School of Catering, Hoxton - Damien Nolan
Chartered Institute of Environmental Health - Sharon Smith
Chiltern Farm Foods meat and game supplier - Keith Bennett
Department of Hospitality, Leisure and Tourism Management, Oxford Brookes University - Donald Sloan
Little Scarlet fruit and vegetable supplier - Bill Mollett
Sauce Communications - Amy Williams
Chapter 5: Initiatives supporting sustainable restaurants and catering
Examples from the UK
Examples from the United States of America
Examples of national and international awards
Examples of logos and accreditation schemes
Waste management services and advice
Training opportunities
Case studies: Seven restaurants serving up sustainability
Acorn House - Arthur Potts Dawson
Moshi Moshi - Caroline Bennett
Duke of Cambridge - Geetie Singh
Pod Foods - Kate Skerritt
Konstam - Oliver Rowe
Blueprint Café - Jeremy Lee
Leon - Henry Dimbleby
Appendices
Appendix 1: Guidance notes used for restaurant interviews
Appendix 2: Guidance notes used for customer interviews
Appendix 3: Contact details of restaurants and caterers interviewed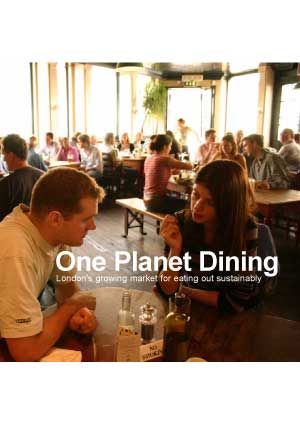 One Planet Dining: London's growing market for eating out sustainably
ISBN: 978-1-903060-43-8 124pp - 2007 | 3194Kb
Share
Get updates
London Food Link: This is the umbrella for all of Sustain's initiatives in London. Our work includes helping to influence local government policy, hands-on food growing training, running sessions for public sector caterers, creating guidance for independent eateries and food producers, public awareness campaigns, and joining the dots between people around specific food issues. The LFL supporter network is open to everyone who grows, produces, teaches, peddles, promotes and simply enjoys good food in the capital.